Suppose your home was built during the post-WWII era. In that case, you might be living in a layout that was better suited to a time when one rotary phone was state-of-the-art communication for the entire family.
Many elements of an older home make it beautifully distinctive, like the interior woodwork and exterior design. But there are also plenty of challenges in a kitchen--the heart of any home-- that has not been updated since Eisenhower took office: a cramped layout, limited storage for gadgets and tableware, no room in the kitchen for the appliances you want, or room for more than one cook at a time. A more open floor plan, with the kitchen as an integral part rather than tucked behind a warren of hallways and doors, means family and guests can enjoy cooking and conversation without running between rooms, and without bumping into each other.
If your kitchen and other rooms are boxed in, luckily, homeowners can fix these challenges with an expert kitchen renovation managed by a skilled design/build team. By building the following three strategies into your kitchen renovation, you'll enjoy spending time there again--unless it's your turn to do the dishes!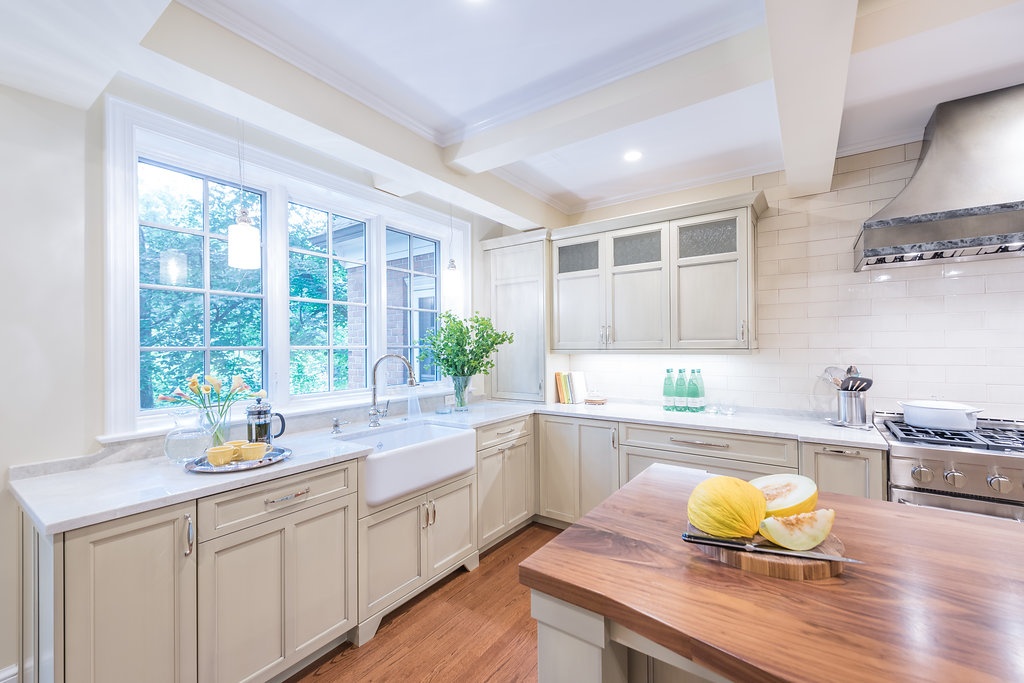 1) A Kitchen Designed For You - Maximize the Space You Already Have
Maybe you've been making the best of this kitchen for some time, and perhaps you just purchased a home in the DC area. Either way, you are ready to make this kitchen your own.
Overall Design
Removing the cabinets, appliances and starting with a blank slate allows you to create the layout you really want, plus update wiring, lighting, and plumbing.
You can essentially "start over" and redesign your entire kitchen floor plan without the need for expanding into a full-sized addition.
Cabinet Layout
The "thwack" of two cabinet doors slamming into each other is a classic hallmark of an outdated kitchen. Or when you have a large space for storage in the corner of the kitchen, the cabinet door makes it impossible to store anything there. These challenges typically occur for two reasons:
The original builder used stock cabinets and doors that weren't built to precisely fit the room's dimensions.
The cabinet spacing and layout was poorly designed. Too many cabinets were squeezed into the space, leaving inadequate clearance between doors and drawers.
When you start with a clean slate in terms of design, custom cabinetry can be made to fit precisely into the room dimensions and maximize usable space. Also, modern cabinetry is designed for efficiency. It offers creative options for organizing the contents inside—no more door or storage drama.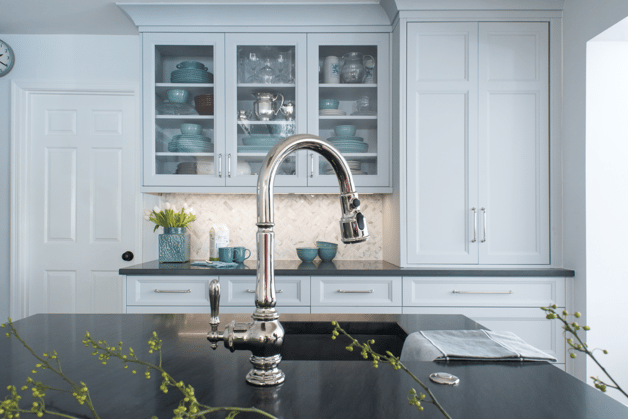 2) Joining the Kitchen with another Interior Room
A custom kitchen design and renovation will call for completely stripping down a room and knocking its walls down to the studs. Your needs might even necessitate removing walls to get the look and the flow you want. This strategy can be especially effective when individual rooms have limited square footage but when combined can create a kitchen you will enjoy living in.
Removing the wall between a kitchen and an adjacent room such as the dining room, creates one large, open kitchen and dining/seating area. If you have underused space and a kitchen that is not meeting your needs, this might be an excellent option to consider.
Oftentimes, adding a little space makes both rooms work better, for example, creating a bay window bump-out with built-in bench seating can have a big impact. This custom design approach can open up enough space for the family to have breakfast together in the kitchen.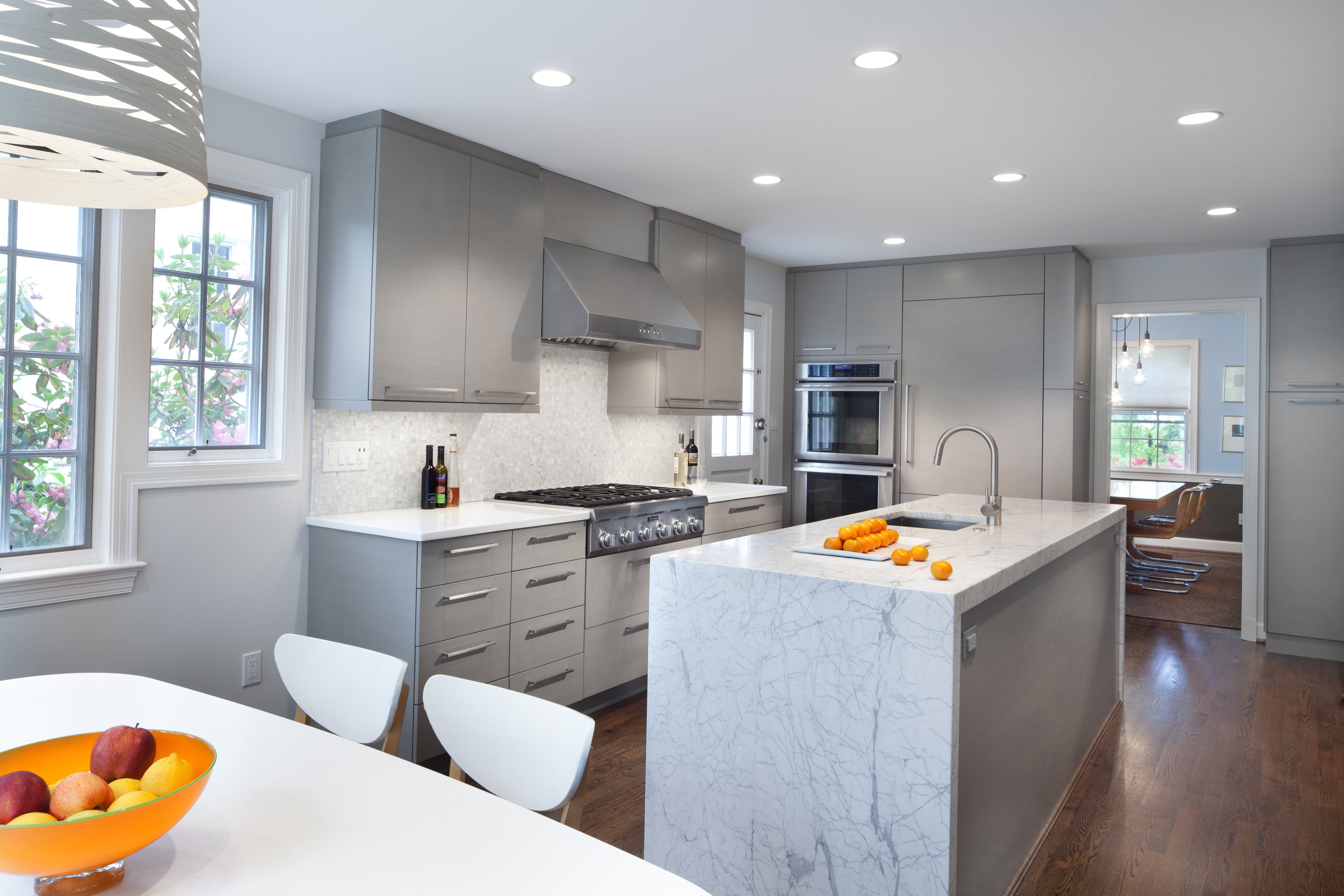 3) Designing a Kitchen Addition
Another strategy to consider takes the process a step further. If your post-war kitchen feels a little bit like an afterthought, it may be that the design is antiquated. In decades past, production builders would place the kitchen into the front or back corner of the house. They wanted to devote square footage to living rooms and dining rooms where, presumably, the family spent most of their time together.
But kitchens today are more of a focal point, a place where the gravitational pull of the home is strongest. It's where not just cooking but conversation, playing games, doing homework, paying the bills all might happen, and sometimes it's all happening simultaneously. Designing a kitchen addition can be a way of moving the kitchen from an afterthought to its rightful place in the home.
With this strategy, the kitchen is moved into the new addition, where it can be designed precisely to the homeowner's size and specifications. A kitchen addition also presents an opportunity to rethink and redesign the entire floor plan to use the old space better.
The possibilities are endless, from additional living space, a butler pantry, a mudroom, or the half-bath you've always wished for. A kitchen addition means getting creative and building solutions beyond the kitchen.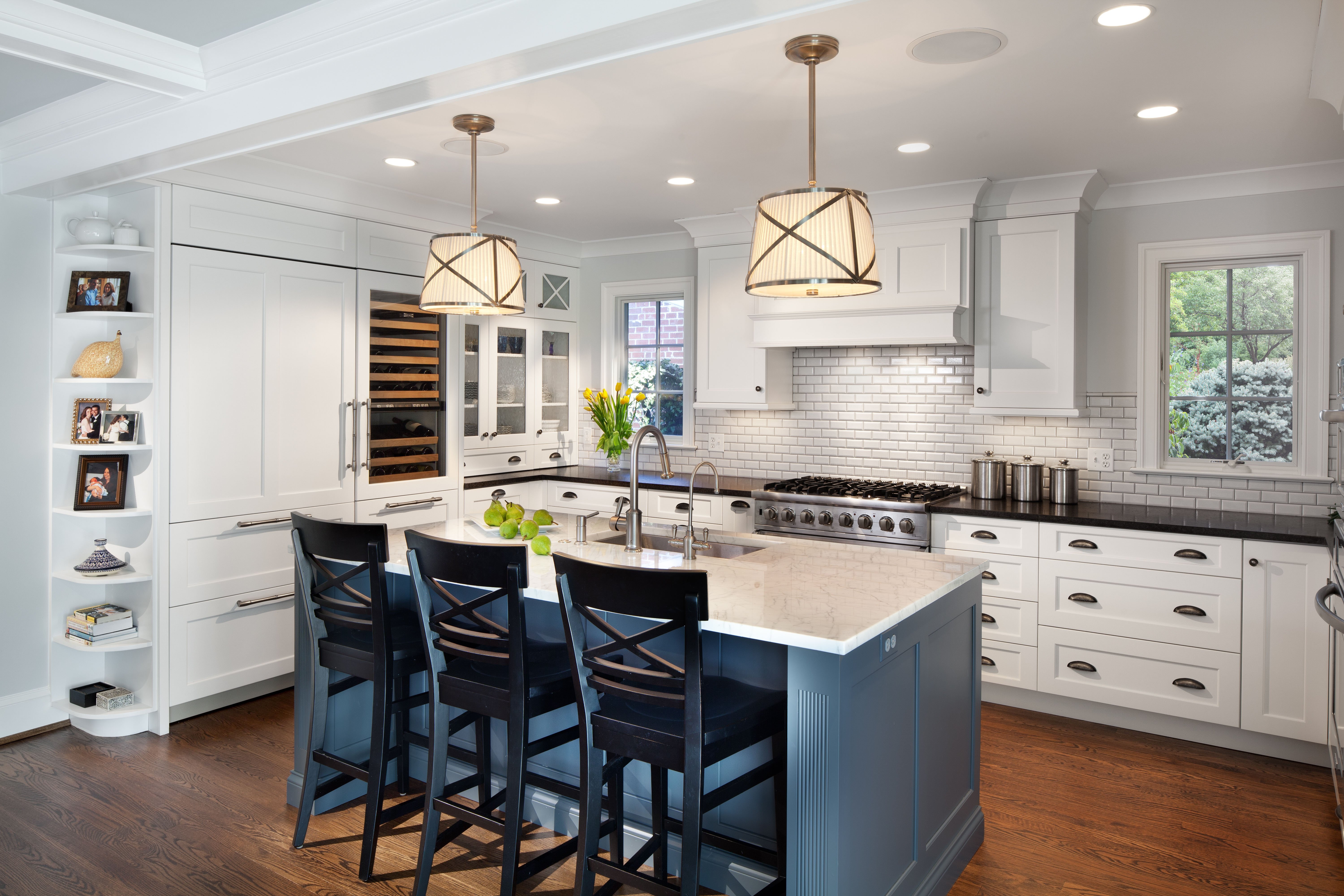 Plan Your Kitchen Remodeling With Your Designer
Although you will have many ideas for improving your kitchen, it's imperative to start with a clear plan developed with a kitchen designer. Here are a few areas to consider as you work with a designer.
Storage.

This might have been one of the big motivators in putting this renovation project in motion. There is not enough storage space in the kitchen as it is now. Your designer will create an efficient and organized space with everything in its place and a place for everything.

Lighting Design.

When your home was built, the lighting might have been a bulb over the sink and a fixture in the middle of the ceiling. For the new design, consider both natural and artificial lighting. Even if the room has good natural light, you will need a kitchen lighting design that neutralizes shadows and glare. You want to be able to see what you are doing at all hours of the day, whether at the sink, a cutting board, or running to get something from the fridge.
Task Areas and Cabinet Layout. How would you like to work in your kitchen? Detailed planning here with a designer who has experience with this sort of renovation is crucial to establishing a good work flow.
There are so many decisions to be made in a kitchen remodeling project. You will want to improve the space aesthetics and mechanics to make the kitchen a place that functions well, even when everyone in your home wants to be there. By thinking through the best strategy and working with a skilled designer, you will create a kitchen you'll love to spend time in again.
To gain more ideas and advice when thinking about a kitchen renovation, please download the free eBook titled "The Definitive Guide to Kitchen Design & Renovation Success."