A kitchen designer should always be in charge of your kitchen renovation - even if it is part of a larger architect-designed project.
The kitchen designer brings valuable insights and expertise to a homeowner planning to remodel a kitchen.
A kitchen designer can dig into the minute details of how the most important room in the house is going to serve the needs of your family.
Designers can objectively look at the space, the budget, and the homeowner's lifestyle, then help them make exactly the kitchen they want, one that works for them 100%.
What does a kitchen designer do?
A kitchen designer is in charge of developing the right plan for the client. They look at the big picture in terms of how the family lives in the house, how the kitchen is going to relate to the rest of the house, and how the family will use it. In addition to listening closely to the client's vision, a talented designer will give them alternative options. Because of their experience and product knowledge, kitchen designers can take the client's ideas and mold them into something they could not have imagined.
A kitchen renovation is a big investment. Weighing alternatives helps a client to make the right choices. The designer knows what works and what doesn't, and can put all the pieces together so that a new kitchen will be functional and beautiful. Given how many choices are involved in a kitchen renovation, it is a relief for the client to know they've got a partner who is looking out for them and keeping track of every detail.
Kitchen designer Leslie Roosevelt says there is a lot of opportunity to miss details if you don't work with a designer. "There are so many areas that need attention like clearances of drawers and doors. You don't want them hitting each other or obstructing free movement in the task areas."
Roosevelt emphasizes the importance of measuring precisely to minimize the need for spacers between cabinets, and to allow adequate clearance for door swings where cabinets abut perimeter walls. You need accurate measurements for appliances and clearance for plumbing and electrical conduits. A common mistake occurs when the homeowner selects a sink style, only to discover later that the dimensions of the sink cabinet make it impossible to install. Precise measurements and knowledge of product specifications is critically important.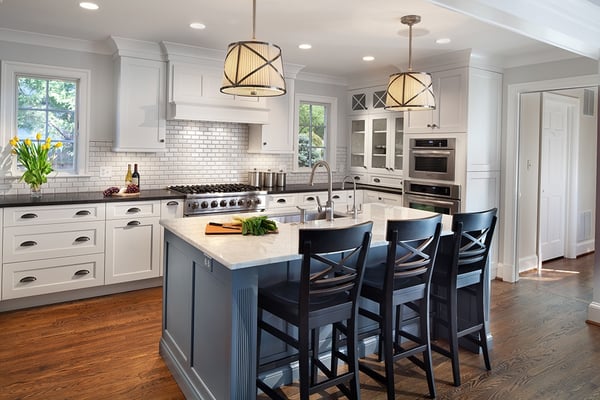 A Kitchen Custom Designed to Fit You Exactly
After clients react to the initial floor plan, the designer helps them personalize it and make changes that are viable and will work—not just look good. A designer makes sure that appliances fit into the cabinet dimensions and that the fixtures blend with the design scheme.
The kitchen designer helps clients choose tile, flooring, light fixtures, and paint colors, then bring all the pieces together into a coherent whole. When choosing materials, they are careful to match those choices to suit the client's lifestyle and tastes. For example, even though marble is beautiful, a young family with children may not be able to live with the stains that can accumulate on natural stone.
There is nothing generic or by-the-numbers in the way a kitchen designer works. It is a hands-on, personalized working relationship between designer and homeowner.
Our kitchen designers tell us that owners often say things like, "don't let me make a mistake–tell me if I'm doing something wrong." They worry about making bad choices that would hurt resale value. The homeowners depend on the designer for guidance.
That's why the designers at Gilday Renovations listen to what their clients are afraid of, but also push them gently to venture out of their comfort zones where then can experience the surprise of achieving what they really want. The best kitchen designers inject a spirit of fun and adventure into an otherwise stressful process.
Can an architect design my kitchen?
Yes, quite a few architects are trained in this regard but a kitchen designer is a specialist. It can be very difficult to keep up with the changing cabinet lines, accessories, or even ordering procedures when you aren't a specialist in this area of design.
Also, an architect looks at how the kitchen will lay out in a room - but unless formally trained in kitchen design, there may be issues with the functionality of the space. The kitchen designer knows how to select the right cabinet sizes and fill in the details so you have a kitchen design that is complete–it looks beautiful and it's a dream to work in. When architectural changes are needed in a kitchen renovation, an architect is a necessary collaborator in providing vision and structural knowledge to the design process.
No matter how beautiful the kitchen is, if it doesn't function properly, you won't be happy with it. If it has fatal design flaws, you might be able to go back and fix it - but not without considerable expense.
Our experts design and remodel homes in Chevy Chase, MD and Washington, DC areas. Learn about how to approach a kitchen design and remodeling project by downloading The Definitive Guide to Kitchen Design & Remodeling Success.