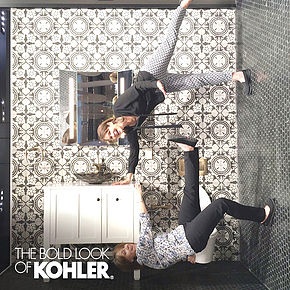 Returning from the KBIS (Kitchen & Bath Industry Show), our kitchen and bath designers were "vertically" flowing with excitement! Two main themes emerged from their 3-day trip to Orlando: technology continues to influence design and material and pops of warm color are beginning to spring forth. Here are a few of their favorite ideas for your next kitchen remodeling or bath renovation.
Sink Love
We didn't think it was possible to love an inanimate object such as a sink, but we were wrong. Franke's Chef Center Sink includes a whole system of accessories allowing you to prep, clean, and entertain all from the kitchen sink.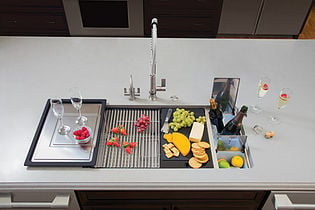 The accessories include a Roller Mat that rolls out to protects your countertops from heat and acts as a colander, a removable glass cutting board that doubles as a serving tray, storage bins to hold condiments, or more importantly, chill wine, and wait for it ... a push button remote controlled strainer basket. This is Swiss ingenuity at its best. At your next gathering, you and your friends will never have to leave the kitchen sink.

Bring It On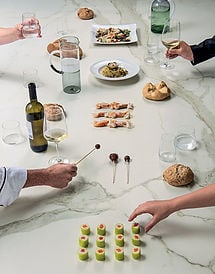 A hot cookie sheet or spilled wine on your kitchen countertops? Bring It On We say "bring it on," … if you have porcelain countertops. Technological advances in the e manufacturing processes have made porcelain slabs the zenith of kitchen and bath surfaces.The material is more heat, chemical, and scratch resistant than quartz, granite, and marble, and the available colors and thinness make it appropriate for just about anything. We especially liked Sapien Stone's porcelain slabs . Although this is close to the perfect material, make sure you have an licensed professional install this material to protect your warranty. So, go ahead, have a picnic on your countertops and don't fret about the wine your best friend just spilled on your new porcelain countertop.

C'est Magnifique
Like that simple black dress, some things never go out of style and that includes La Cornue's timeless ranges. These statement pieces mix well with either modern or traditional elements. Choose your pleasure. We fell in love with Suzanne Kasler's pink range, Liberte' and Matthew Quinn's bold teal range, Quintessential.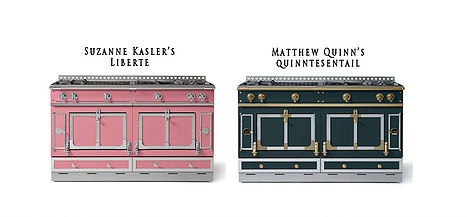 Warming Trends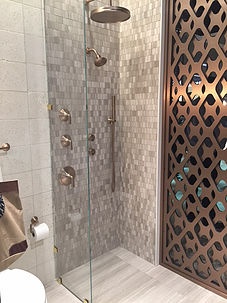 Full disclosure: We, and most of Americans, love a white kitchen or bath room. But, looking at the new colors of the year— Pantone's Greenery, Sherwin Williams' Poised Taupe, and Benjamin Moore's Shadow — it seems that a there's a movement towards the warmer side of the color wheel.
For the bathroom, we love Kallista's Blush Bronze fixtures (add link) which add subtle accents to neutral tiles.
Optimized Ergonomics
No, this is not a cryptic Wall Street term describing money supply. It actually applies to Kohler's new Sunstruck® series, an ergonomically designed acrylic tub that provides lumbar support. And, for the ultimate spa-like experience you can add music and a patented heated surface to warm your shoulders, neck, and back. According to Will Moser of the Thomas Somerville Showroom in Chevy Chase, Maryland, "Because sound travels well through water, you can listen to your favorite song (under water if you'd like), while soaking yourself into a warm, acoustical bliss." Touché beltway traffic!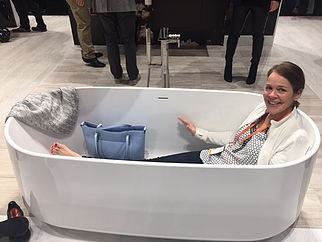 Learn about how to approach a kitchen design and remodeling project by downloading The Definitive Guide to Kitchen Design & Remodeling Success.