Home Remodeling in Potomac MD
The size of lots is a big differentiator between the homes in Potomac, Maryland and nearby Bethesda. You get more land for your money. In contrast to the inner ring DC suburbs, where the housing stock has grown over many decades and so includes a range of styles and sizes, Potomac homes tend to be newer and much larger. And this presents an entirely different set of home remodeling problems to be solved.
Potomac hosts a collection of classic 1960s and '70s-era split level ranch homes, but they are more spacious than the typical tract home. Aside from the grand country estates built on multi-acre lots, there is a large collection of traditional style homes constructed in the 80's and 90's that are spacious and modern. The problems we solve for these modern era homes stem from the fact that the interior layouts can be dated and the bathrooms and kitchens —although usually spacious—can seem terribly dated to a 21st century homeowner.
The home remodeling challenges faced by most Potomac residents rarely have to do with a lack of space. They center primarily around design: the need for updated interior styles and interior layouts. That's why it is vitally important to hire a design-driven home remodeling company with renovation architects, kitchen designers, and bath designers on staff.
Our renovation architects and interior designers are well versed in the quirks of traditional architectural styles as well as the complexities of contemporary architecture. They understand what makes a space feel right. They can quickly identify limitations, create a detailed plan for your home remodeling project, then lead you to the fulfillment of a shared vision of what your old house could be.
Whether your project involves kitchen remodeling, bathroom renovation, or an expansive new home addition and interior reconfiguration, a well planned renovation can give your tired old house a new start while preserving all that is good about the original home.
---
Kitchen Remodeling in Potomac MD
The driving force behind nearly every home remodeling project we do in the Potomac is the desire for a tastefully remodeled kitchen. Kitchen design techniques and kitchen product lines have changed so much since many Potomac homes were built kitchen remodeling will be well worth the investment.
You will have the best experience if you hire a remodeling company like ours that employs kitchen designers and renovation architects, specialists who understand all the ins and outs of kitchen remodeling, obsess over every detail--and show you all of your options to achieve the kitchen of your dreams. A successful kitchen remodeling project depends on their design expertise and knowledge of the renovation process.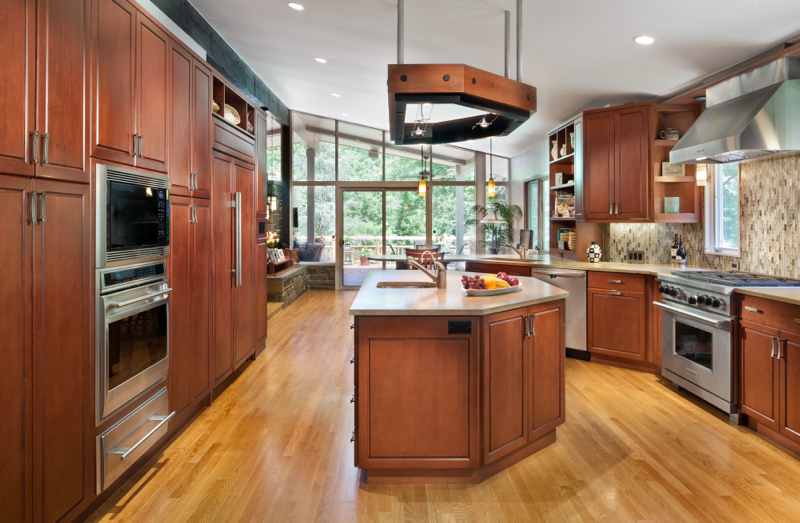 Our kitchen designers start by evaluating the condition of existing walls, subfloor, plumbing and electrical system--then making recommendations to ensure your investment is built on a solid foundation while eliminating the possibility of costly construction surprises.
They'll finalize the floor plan for your new kitchen, then guide you through the process of selecting cabinetry, appliances, countertops, flooring, lighting design–and all the little details that will take your inspiration from random thoughts, to thoughtful design, to glorious completion.
---
Bathroom Remodel in Potomac MD
In most suburban Washington area homes, bathrooms tend to be small--but not so in Potomac. The homes built in th 80's and 90's all feature spacious master bathrooms. The problem is one of style: the colors, finish products, and fixtures are often dated--and most owners want them to be brought up to date.
Working with one of our staff bath designers makes the decision process go smoothly for you and ensures that the bath products and finishes you choose will hold up over time and contribute to a harmonious visual design.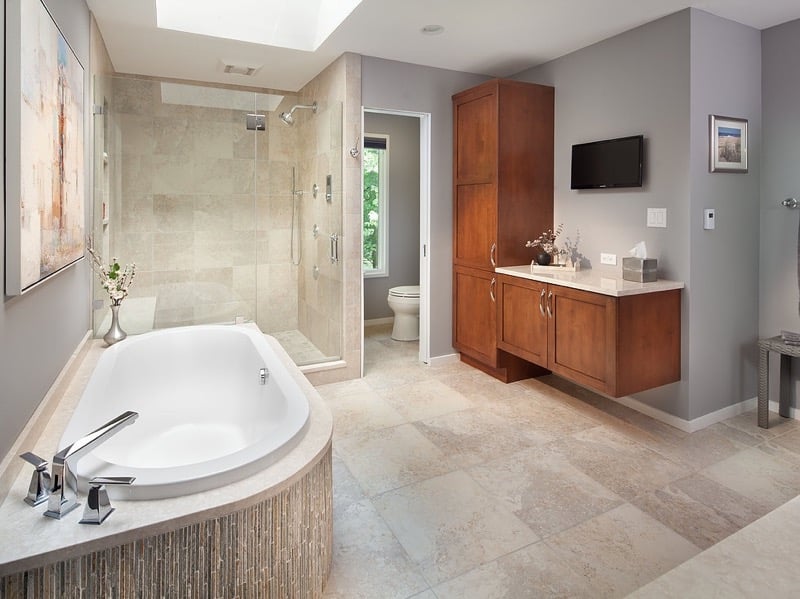 Our bath designers also keep an eye on the construction process. This is important because, with any bathroom renovation project, there are details that must be worked out "on the fly". Since our designers and craftsmen are used to working together, it's easy for them make those small but important adjustments that always come up during the construction phase.
---
Home Additions in Potomac MD
Unlike homeowners in the near suburbs of Washington DC, Potomac residents have less need for more space, but a great need for stylishly designed space. The most common home addition requested in Potomac is usually a porch or sunroom addition--a luxury rather than a necessity.
More often we will redesign existing interiors to modernize a floor plan and introduce stylish architectural details to personalize interiors--most especially in kitchens and bathrooms. Having a home remodeling plan that is backed up by design expertise and resources, is your best guarantee that your remodeling project will result in improvements that deliver the comfort, aesthetic and functional standards you expect.