The End of Granite Countertops in Kitchen Remodeling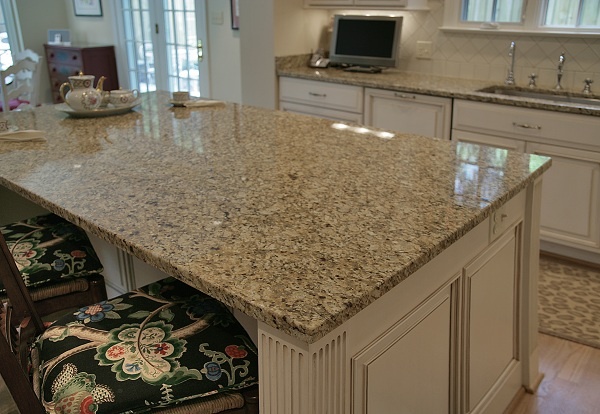 Are we sick of the slab yet? Starting about eight years ago there were remodeling industry predictions of an end to the great granite countertop obsession that swept Metro Washington DC homeowners off their feet. Well, eight years later rock is still tops in the DC kitchen.
The day will surely come in the fickle and trendy world of kitchen remodeling when the timeless look of granite will have timed out. Whether that moment arrives soon or later doesn't matter because, if you don't want granite, you have many options.
What Are the Options for Kitchen Countertops?
Alternative countertop materials that our kitchen designers have used successfully are:
Concrete
Concrete countertops give a wide range for creativity. They can tinted any color and spiced up by adding mica flecks or stone chips into the mix.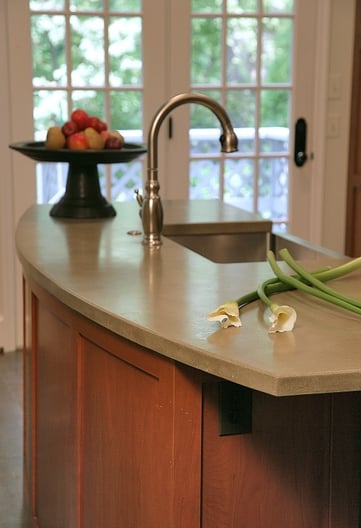 Wood
The butcher block center island countertop is an an oldy but goody work surface solution.
This built-in buffet features a solid wood countertop with stainless steel bar sink.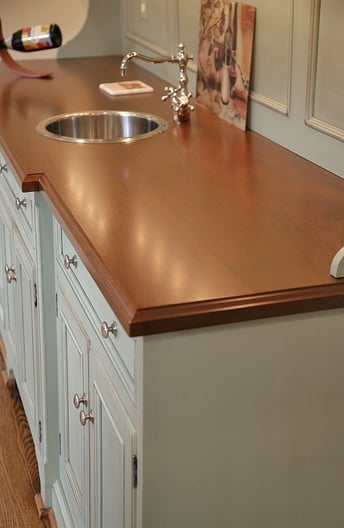 Quartz Composites
This American University Park kitchen has Silestone countertops on the perimeter cabinets and a solid wood countertop at the center island. Generally, we are using a wood countertop on a surface that takes a lighter workload such as a seating area or sideboard.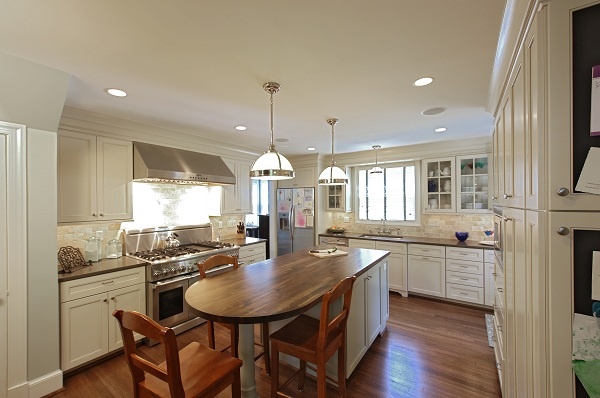 Stainless Steel
The industrial sheen and utility of stainless steel is a choice for serious amateur chefs.
Marble
The silky smooth surface of marble is a bit of a diva. Like all exceptional beauties it tends to be high maintenance--but worth the trouble if you love it.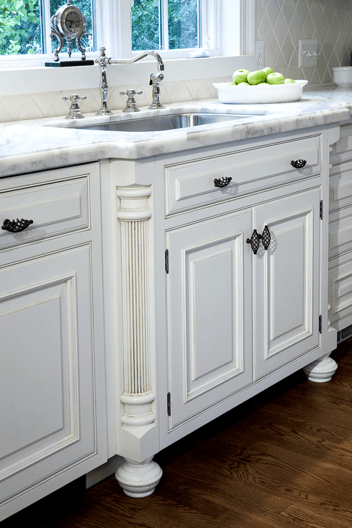 Tempered Glass
This contemporary kitchen in McLean features a split level kitchen island that employs granite for the prep area (lower) and a tempered glass bar counter.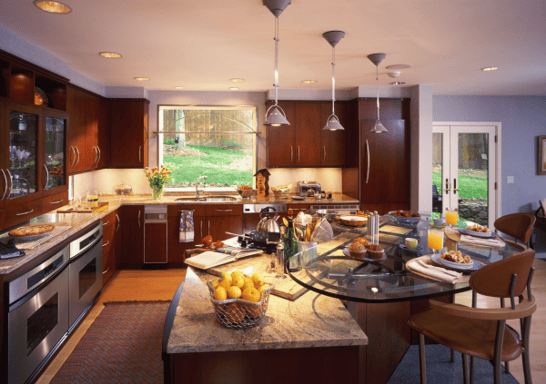 Kitchen Remodeling With or Without Granite
Another trick Gilday designers have used successfully--when granite is specified--is to use two types of granite for their kitchen countertops. This kitchen island (photo below) has a split surface using two types of granite countertop. It uses a black polished granite for the seating area on the left side, and a traditional type of granite for the prep area.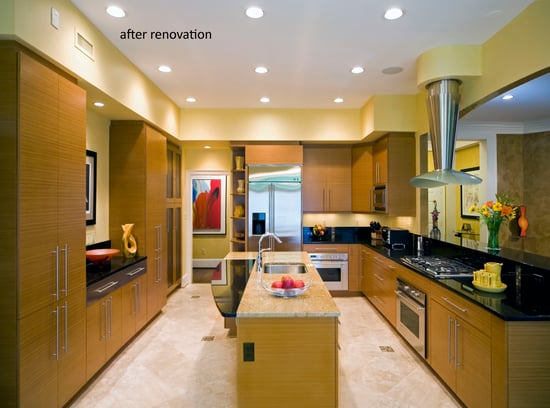 It is now quite common to see two and sometimes three different types of countertop surfaces in a remodeled kitchen. Kitchen designers are typically using one type of material at the center island and another for the perimeter cabinets. Sometimes there will be a third type of counter top material applied to a sideboard or banquette (built-in seating and table top).
So, even though granite countertops continue to be the top choice for our kitchen remodeling clients, the stone can be used more creatively than you might think. And don't forget there are (and have always been) at least half a dozen other types of surfaces to choose from.
Learn about how to approach a kitchen design and remodeling project by downloading The Definitive Guide to Kitchen Design & Remodeling Success.