You've suspected it for a while, but now you're sure of it: Your kitchen isn't working.
Whether it's too small, laid out improperly, or just plain outdated, a poorly-functioning kitchen can drag down an otherwise lovely home. It can force you and your family members to simply get by with a space that is supposed to be the heart and soul of the home.
Luckily, there are ways to improve the situation. Let's look at three of the most common methods to approach kitchen remodeling, what they entail, and their relative investment. As an example, please see this Chevy Chase, MD Kitchen Remodel.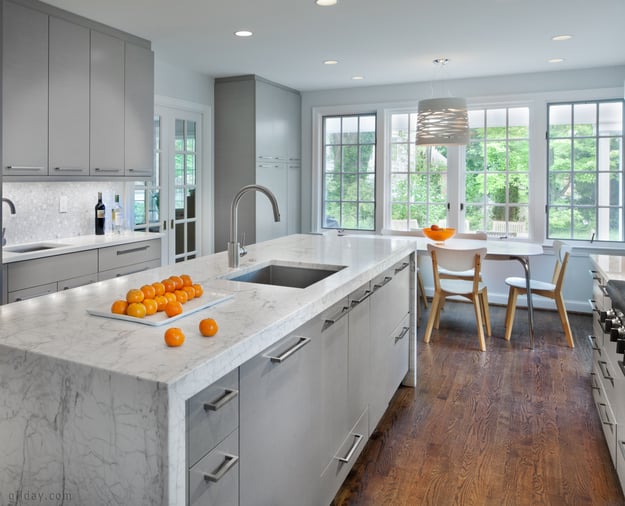 Hire a remodeling contractor


Remodeling contractors without a design staff will typically be on the lower end of the renovation price range. These projects are also known as "replacement kitchen" jobs. In this kind of kitchen renovation, the layout isn't changed at all. No walls, windows, or doorways are moved, and no plumbing or electrical lines are added or changed. A pull and replace renovation only changes the aesthetic of the room. In some cases, replacement kitchen jobs will also involve an upgrade to appliances.
Hire an experienced kitchen designer


An experienced kitchen designer will take a full inventory of a homeowner's needs as it relates to spacing, food storage, preparation, etc. Design studios typically emphasize the look in your kitchen; they often have access to exclusive cabinetry lines with finishes and textures that aren't available from retailers. These designers will also be able to recommend changing the location of appliances, sinks, and other kitchen elements. They have pre-qualified subcontractors that they commission renovation work to as necessary.
Hire a design-build firm
This option is the most comprehensive of the three. A design-build firm employs designers, architects, craftsmen, and project managers who all coordinate their efforts on the project. They will also take a full inventory of the client's needs, but are more sensitive to these requirements and can provide full customization. To that extent, a design-build firm can plan and execute significant changes in walls, doors, windows, appliances, sinks, and other structural components of your kitchen.
Which approach to kitchen renovation is right for you?

Any of these three options could be the right choice for you, depending on your home and its requirements. Consider the following factors:

If your kitchen only needs aesthetic, small-scale changes, and you already have a strong sense of what needs to be done, a remodeling contractor could be a good option. They'll require the most input, time, and energy from you, but will typically be the least expensive choice.





If you need aesthetic and functional changes but want expert guidance for the decision-making process, working with a design studio may be your best bet. A design studio is especially fitting if you don't think you will need major structural changes to walls, windows, and plumbing/electrical lines - or if you do, those elements will be relatively minor.





If your kitchen needs extensive changes, or you want every detail of your renovation project to be managed for you, a design-build firm is the way to go. While this option may require more of an investment, a design-build firm will go above and beyond to ensure that the renovations you need are completed to your exact requirements, you are always in the loop regarding what's happening, and the renovations create as small of a disturbance as possible to your family, through the use of temporary kitchens and other measures.




Still not sure which method of kitchen remodeling would be best for your needs? At Gilday Renovations, we have decades of experience with all kinds of kitchen projects, from the most significant gut remodels to the easiest pull and replace jobs.
Give us a call today to learn about how we can help you pick the kitchen remodeling method that works best for you and your family.
Learn about how to approach a kitchen design and remodeling project by downloading The Definitive Guide to Kitchen Design & Remodeling Success.