As you flip through pictures on Pinterest, Houzz, and Instagram to imagine your kitchen renovation, did you ever wonder why you're drawn to certain images? Chances are that the picture's color palette captivated you. But with infinite shades and tints, picking colors for cabinets, islands, and walls can be daunting. So how do you choose that perfect hue(s)? Maybe your personality type can give you some guidance.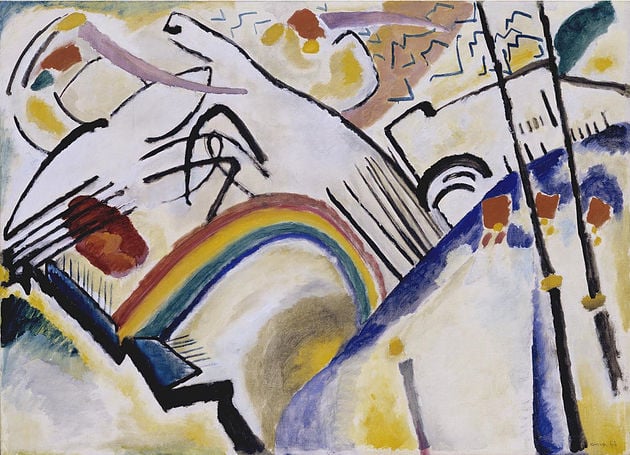 Our fascination with color has a long history. From Isaac Newton to Ewald Hering (who pioneered the physiology of color perception), scientists have discovered much about how we see color, but they have completed little research on the psychology of color—how it makes us feel. Artist Wassily Kandinsky almost certainly understood the nuances of shades of white (or yellow, or blue, or red) that he might have chosen. In fact, he used color as his subject to connect with his observer psychically as well as physically. He believed color was his means to influence the human soul.
None of us is going to design an abstract kitchen—kitchens are where we engage in some of life's most practical, life-sustaining activities. But our response to color is as individualized as our DNA. For example, red may symbolize passion for some and aggression for others.
Color psychologist Angela Wright theorizes that four seasonal color palettes correspond to an individual's behavioral characteristics, which in turn, may drive how he or she chooses to design their living spaces.

Spring: Spring colors are yellow-based and bright, lively, yet simple. A spring kitchen may feature lots of natural light, soft corners, and a tidy vibe (think spring cleaning). Spring personalities tend to be friendly and enthusiastic and love informal gatherings with lots of people. In design terms, if you think of yourself as a spring personality, you may want to entertain right in your kitchen where form and function work together.


Summer: As summer's heat and light fade the primary shades of spring, its midrange palette, surprisingly, contains lots of grey and blue. A bit more formal than spring's kitchen, summer's kitchen is architecturally detailed, well proportioned, and traditionally decorated. A quiet, calm summer personality may prefer to host parties that are elegant and intimate—but outside the food preparation place.

Autumn: The earthy and flamboyant colors of autumn are famously intense. Yet, autumn personalities are pragmatic, preferring comfort and durability over contemporary trends and aesthetics. Informal gatherings with lively debate and spirited conversation dominate autumn gatherings in a kitchen with warm cabinets, texture, and a dog by the fire.


Winter: Winter's colors are intense and pure. You won't find any creams in the vivid tints and shades of a winter palette. Strong square lines, shiny surfaces, and minimalism create a sense of drama in winter's kitchen. Similarly, winter's personalities, strong and self-assured, are at the forefront of design, and they prefer small, intimate gatherings.

So what's your color personality? Look at your Pinterest pins. Do you see a color pattern? According to Wright, although we may be influenced by other color palettes, each one of us has a dominant color palette. It's possible to appreciate or have small touches of subordinate color palettes in your home or wardrobe, but too many could be draining. Looking at the kitchens below, which picture do you gravitate towards?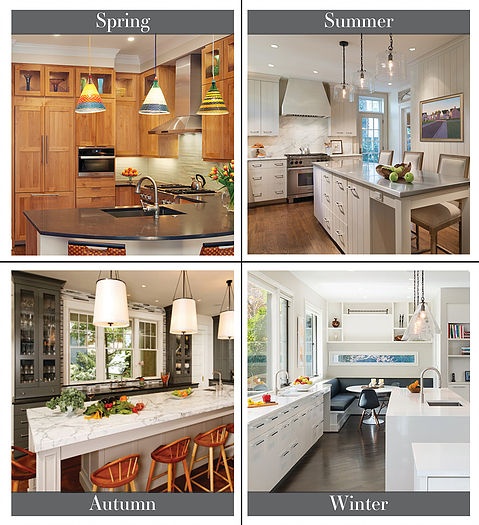 Although the differences in the above kitchens are subtle, if you look closely, you can discern the different color palettes. See the touches of yellow, blue, and green in spring's lamp shades? Think crocuses and early buds. The rounded edge of the island? Think friends and family gathering informally to celebrate longer and brighter days. In the summer kitchen, the hazy plums and sage greens in the painting compliment the cool, oyster-colored cabinets with grey undertones. The summer kitchen is also a bit more sophisticated with the linen chairs and grooved cabinets. In contrast, the olive cabinets in the autumn kitchen are sensible, yet warm. The large Carrara marble island would be smartly accessorized with a golden retriever sitting near by. And lastly, the leather banquette and dark floors stabilize and anchor the strong, squared lines and shiny surfaces in the pure white, winter kitchen.
Before you begin your kitchen renovation, look at which colors speak to you and make you happy. Go back and look at your pins. Do they confirm how you feel and support your personal traits? Then leave the rest to us at Gilday Renovations. Our certified kitchen designers and architects can customize a kitchen that meets your goals, bringing harmony, happiness, and function to how your family breaks bread with family and friends.
Learn about how to approach a kitchen design and remodeling project by downloading The Definitive Guide to Kitchen Design & Remodeling Success.