Beautiful + Practical: The Art of Kitchen Remodeling
Inundated by decades of dazzling programming on HGTV and The Food Channel, America's passion for kitchen perfection shows no signs of cooling off. This desire carries over into the realm of home renovation, where kitchen remodeling is almost always the heartbeat of every project.
It's too easy to become infatuated with the exquisite cabinetry, colorful backsplash tile, alluring appliances, and all that visual pizazz.

But we advise you take a breath and understand that looks aren't everything. Any good kitchen designer will tell you that a kitchen is, first of all, a workplace and a gathering place.
It must be designed with an underlying logic that supports ease of movement, comfort, and efficiency. So, when you browse photos of stunning kitchen renovations, you need to ask yourself (or your kitchen renovation company), does it work?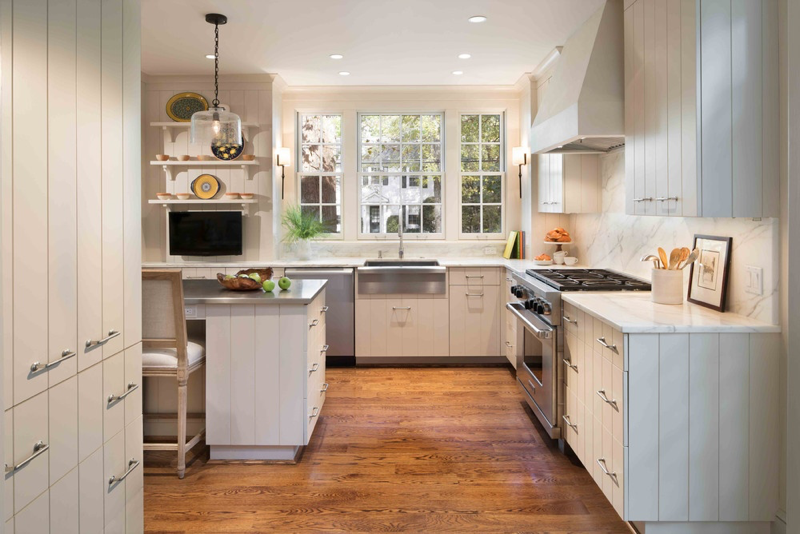 Here are a few things to think about before you begin your kitchen remodeling project to maximize your chances of designing a kitchen that "works," one that looks and functions beautifully.
Task Areas & Kitchen Work Triangle
The "work triangle" is a basic concept of kitchen functionality and central to the art of modern kitchen design. The three corners of the triangle are cooking, cleaning and food storage areas.
We call these three points of the triangle "task areas." They could be a few steps away from each other or just arm's length but must relate well to each other, or the kitchen won't work efficiently. This underlying design principle holds true for kitchens large and small, expensive or not.
Designing logical relationships between task areas will make or break a kitchen renovation. If the geometry is off, the kitchen - no matter how beautiful it looks - will not function successfully. This logic of balanced spatial relationships extends to seating/dining areas and traffic flow patterns throughout the kitchen.
Although a large kitchen may have multiple task areas, the basic layout usually includes:
food and beverage storage (pantry & refrigerators)

food preparation surfaces (sinks, countertops, butcher block)

cooking areas (range, stove top, wall ovens, microwave)

clean up areas (sink, dishwasher, garbage disposal, recycling bins)
The individual task areas must be organized so that the cook has all the utensils, vessels, and supplies easily at hand. Each area needs to be planned for efficiency and ease of movement—which leads us to workflow. This also extends to larger kitchens where multiple triangles create independent work zones for multiple cooks.
Task Areas & Work Flow
Work flow relates to the order in which kitchen task areas are utilized in food preparation. Most cooks follow a standard sequence:
Food and supplies enter a kitchen

Food and supplies are stored in a pantry, cabinet, or refrigerator

Food and supplies are selected and set up at the prep center

Food is cooked

Food is plated and served

Utensils, pots, plates are cleaned and waste is disposed.
In addition to an orderly flow between task areas, the kitchen floor plan must allow adequate clearance for traffic to circulate around (not through) work areas, as well as for separate seating and perching areas for socializing.
Economy of Movement
Ideally, kitchen task areas are located in close enough proximity to minimize the number of steps needed to move from one process to the next. A well-planned kitchen layout will eliminate unnecessary effort by organizing work centers and positioning them close enough to each other so that all your energy goes into the task at hand.
There is a beauty and efficiency in this sort of "economy." A kitchen remodeling project that fails to go through this planning process is unlikely to be a success.
Style Trio
This style trio has to do with the visual impression of the modern kitchen. It is based on three key components: cabinetry, countertops and custom backsplash. After appliances, these three components are the foundation of discernible impact: Everything else falls into line after this trio has been selected. Lighting design is next in order of importance for evenly illuminating work areas and for visual definition of all the objects in the space. Then consider the many other details (such as type of flooring, fixtures, paint color, and cabinet hardware) that put the final touch on it all.
Working with a kitchen designer will help you balance the visual details and make the many practical choices necessary for a successful kitchen renovation. A sound kitchen design balances the aesthetic and the practical decisions that translate into a kitchen with both beauty and longevity.
Learn about how to approach a kitchen design and remodeling project by downloading The Definitive Guide to Kitchen Design & Remodeling Success.