At Gilday Renovations, we frequently encounter homes built in the days before kitchens were capable of being so beautiful to look at. And, until recent advances in kitchen design appeared on the scene, kitchens were designed to be used and not seen.
Many of our traditional Washington DC area homes (built pre 1980) are compact and efficient. The kitchen is usually crammed into a rear corner of the house--designed to take up as little space as possible. Modern kitchens require more room. We can get that by building an addition or through interior renovations that reconfigure a floor plan to create a space that is more open and more useful.
There was a reason for this small sort of thinking (though it no longer works). Skimping on the kitchen gave the greater share of square footage to the dining room and living room--which used to be where families ate daily meals and socialized.
The current abundance of designer cabinets, backsplash tile, specialty lighting instruments and kitchen countertop materials changed that. Now the kitchen is the place to see and be seen. And for that, your kitchen will need a little more breathing room.
Sometimes we can give a kitchen the space it needs by taking from adjacent rooms. In that situation, we proceed with an interior renovation approach. We reconfigure existing space rather than add new (a room addition). We remove, modify, or relocate walls to lay out rooms in the shape that we need them to be.
Here is such a case. This Kalorama DC townhouse actually had lots of space but not in the right places. Note: walls that were removed/modified are highlighted in yellow.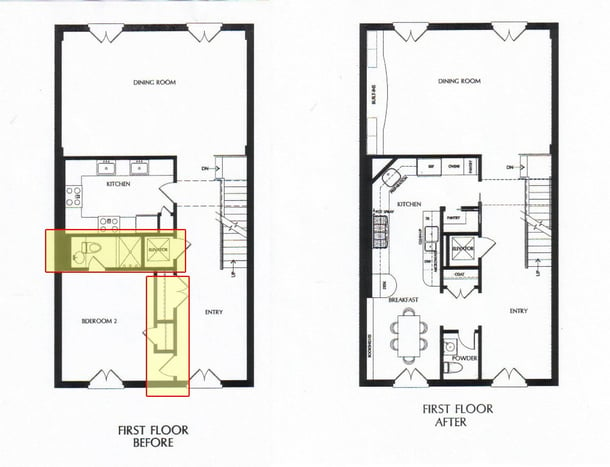 Adjacent to the kitchen, was a guest room and bath. The owners were using it as a study. South facing French doors drew very nice morning light into the room. Wouldn't that make a lovely place to sit and have coffee?
Today it is just that.
We blew out the wall between the kitchen and guest room, rebuilt the wall bordering the guest room and main hallway, then reconfigured the interior in order to do the following:
relocate the bath (changed to a half bath) off the main hall and foyer
create a coat closet off the main hall and foyer
create a breakfast room and library that is open to
a large galley kitchen that catches some of that nice daylight from the French doors
Again, the problem wasn't lack of adequate space. The floor plan was too compartmentalized (too many walls and doors) for the sort of easy flow we tend to look for in our interiors now. The kitchen, in particular, felt like a walk-in closet.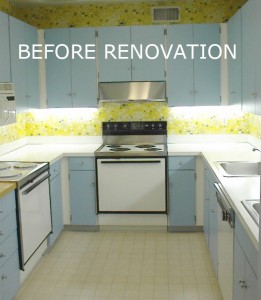 So, that's how we reconfigure interior space. If there is enough total square footage to begin with, a smart interior designer can re-assign use areas and maximize the functionality of the space to create truly custom kitchens by design.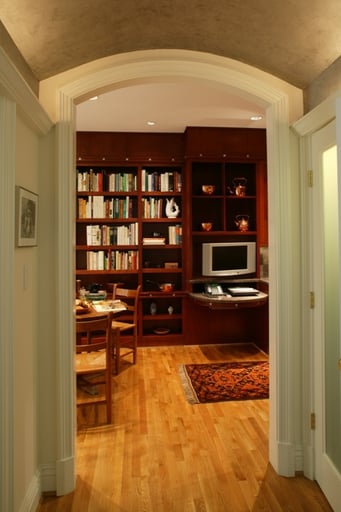 Learn about how to approach a kitchen design and remodeling project by downloading The Definitive Guide to Kitchen Design & Remodeling Success.