When it comes to adding livable space to your home, the most logical places to turn are the basement and the attic. In the two previous posts, we looked at the return on the investment <link> as well as challenges <link> of renovating your basement. Now, let's take a closer look at the potential for living space that's above.
Should you renovate the attic? Do you need more space for a bedroom for guests, children or an office? Are you ready for that perfect master suite? To answer that question, first and foremost, the added living space should benefit you and your family.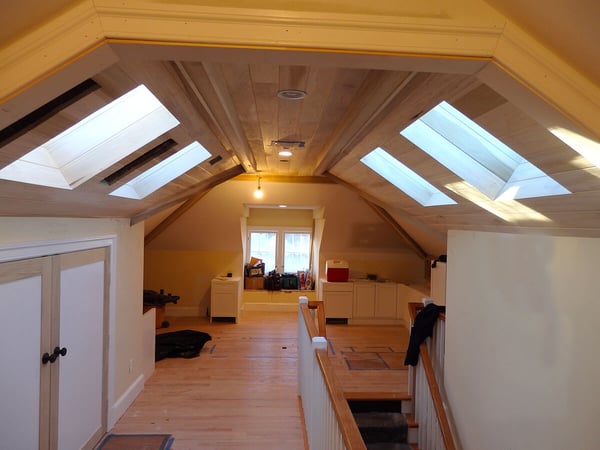 Near completion, this long narrow attic is being put to good use for storage (foreground left) and a home office with a dormer window seat. Skylights and custom paneling on the ceiling create interest that counteracts the relatively small space and low ceiling.
But there is also a clear resale benefit in renovating attic space. Finishing unfinished space in the house is an extremely cost-effective way to offer what potential buyers are looking for. It's true everywhere, but especially in older neighborhoods with smaller homes, a finished attic can definitely add to resale value.
Theo Adamstein of TTR Sotheby's International Realty sees this again and again. "We never know who the potential buyer of the home will be. It might very well be a couple that has two children and are planning for more. That family will see a nicely finished attic as terrific flex space they can grow into when the time comes."
Potential Uses
Alright, so it is clear that attic renovation is a valuable decision for your family and a value in terms of resale. What could that attic space be used for? There are many options to consider.
How much attic space is available? Depending on how much square footage is available, you could turn that unused space into:
A Master bedroom suite—add the features you have been missing, whether it's a separate bathroom, more closet space, or just an oasis separate from the rest of the activity going on in the house.

Bedrooms with shared bath in between—maybe it's the kids who need some more space. An attic is a great place for a bedroom or two, plus a "jack-n-jill" bathroom

Flex space—It is becoming more and more popular to create spaces that can serve more than one purpose. For example an art studio or office since many need a dedicated space to work from home.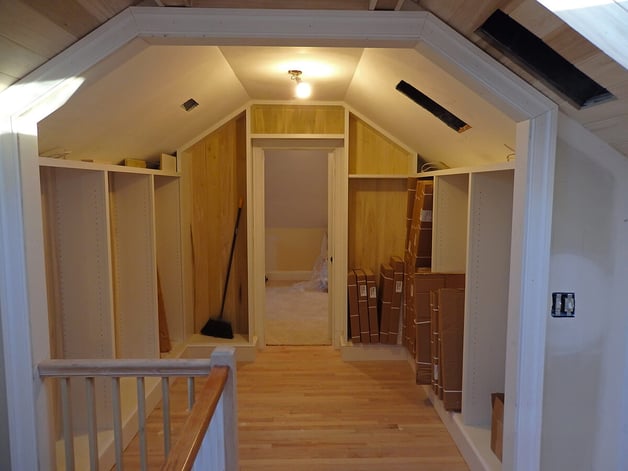 This nearly completed library makes clever use of the angles along the roofline to maximize top shelf space. There is a quiet bedroom through the door in the background.
Every attic is unique. If space is more limited, consider a playroom or media room, kid's sleepover space, yoga/meditation retreat, or a sewing/craft room.
Whatever limits are currently on your interior space, you can expand them with an attic renovation.
Potential Challenges
Attic space poses some unique opportunities, but also some unique challenges. Let's take a closer look at a few of them.
Ceiling Heights
One of the biggest challenges faced when it comes to an attic renovation is ceiling height. Is there enough space for an adult to walk upright?
For an attic to meet building codes, there must be a minimum square foot area with adequate ceiling height to be able to call it a room. Your renovation firm can help you determine what the code dictates in your location. Typically, building codes specify that 50% of the ceiling areas in a finished space must be approximately seven feet high. To increase headroom in the attic, dormers or gables are added to expand usable space and add needed headroom.
Light
Similar to basement space, natural light is often limited in the attic. Adding dormers or gables, windows can be a natural part of that design process. If adding dormers or gables is not needed, consider the addition of skylights to help make a "smaller" space feel more open.
Other Challenges
Staircase—a pulldown ladder into the attic will not meet building codes for living space. Consult with your renovation firm regarding access, because even an existing staircase may not meet current requirements.

Plumbing, Electric, and heating and cooling system (HVAC)—Like basements, attics often are the place where utilities are hidden away. Many homes have a split HVAC system with the 2nd floor cooling unit located in the attic. If necessary, this equipment can be moved and hidden behind a knee wall in the eaves.

Flooring—This is another issue your renovation firm can help you with. The existing attic floor structure is generally designed for storage and not living space and may need to be reinforced before installing flooring.
If you need more living space, your attic might be the best location for it. The renovation adds value to your home while you enjoy living in it.
To learn more about the process of renovating your attic, or to consult about designing a new space in your home, download our 6 Things to Ask Yourself Before You Remodel guide.