It's an empty nest! The house is finally all yours again. Your youngest child got the hint when they found you measuring the dimensions of what had, up to this point, clearly been their bedroom. Now they are out on their own, doing great - everybody's happy.
One big upside for you: that bedroom is open space, and the tiny closet you and your spouse have been sharing is about to get a LOT less cluttered. The spare room is going to be the perfect place for the new walk-in closet you've been wishing you had since you moved in.
Or is it? Before you make big floor plan changes, here are some things to consider:
Resale - if you redesign, open up walls, and reduce the size or eliminate an adjacent bedroom, will the home retain its resale value? Does the benefit of a better owner's bedroom with a walk-in closet outweigh the loss of one bedroom in the home?
If you currently have a three bedroom home, these questions are more challenging to answer. Most real estate agents will caution against a home remodeling project that reduces the number of bedrooms below three. A two bedroom home can be absolutely beautiful and functional, but it will significantly narrow the pool of potential buyers. So more careful consideration of the space is needed if you are starting with a 3 bedroom home. If you are starting with a four or five bedroom home, your options for creating a great walk-in closet space are far less limited.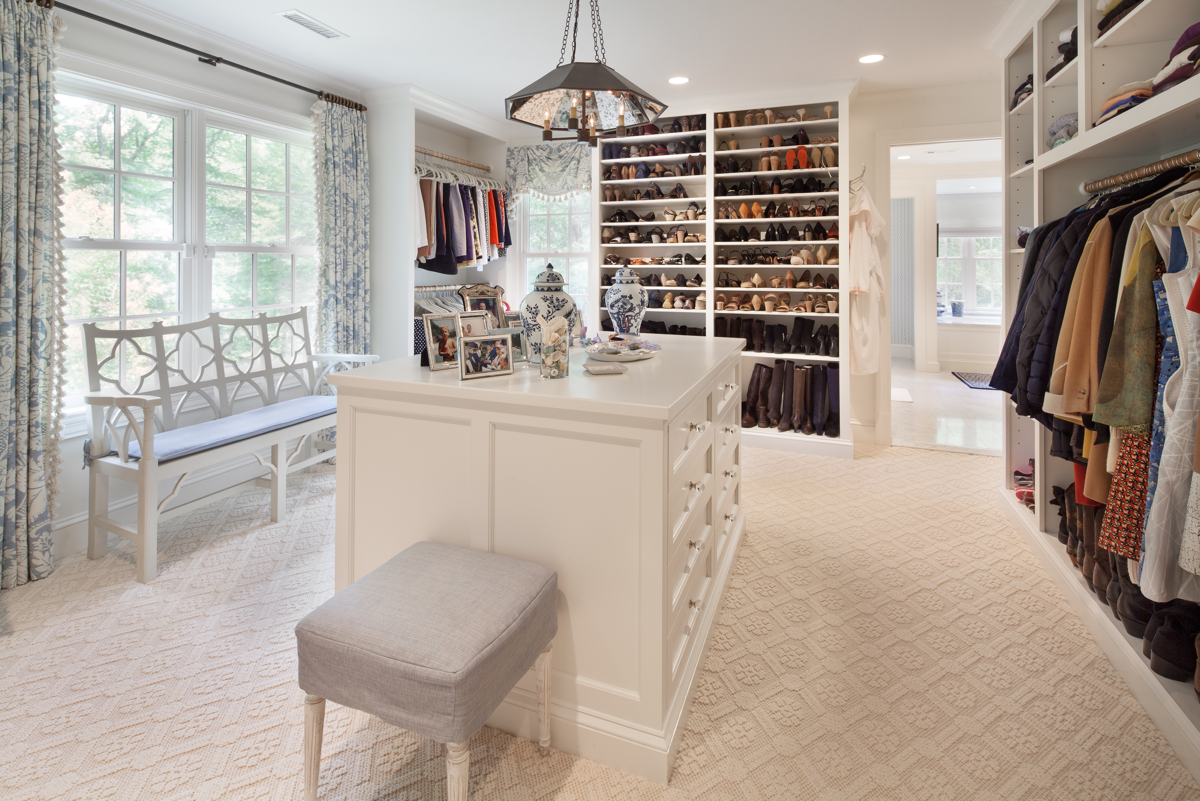 Whatever the overall number of bedrooms you are starting with, you have options:
Especially if you are in the three bedroom home situation, it might be possible to just add closet shelving, built-ins, and furnishings to the spare bedroom. With the right lighting, a mirror or two, and a countertop, it could even be an ideal space to use as a full dressing room. At resale, it could be marketed as a spacious closet and changing room, but with the understanding that it could quickly and easily be converted back to a standard bedroom.

If you decide to remodel and create a walk-in closet out of all or a portion of an adjacent bedroom space, look for space to create a new bedroom elsewhere. Where else might a bedroom fit into the floorplan? Is there room on the 1st floor? Would a basement bedroom make sense? Perhaps you have attic space that could be converted into a bedroom.
There are many benefits to creating a good-sized walk-in closet.
A spacious and nicely appointed owner's room closet is a good selling point. If you have all this and still have a three or four bedroom home, that is the ideal for resale.
Another benefit is that you can keep seasonal clothes in one space. You won't have to make trips up to the attic for the change to winter wardrobe, or back to summer wardrobe. It can all stay stored away in one larger, more usable space.
A new space is always a wonderfully blank canvass. With more space to play with, you can add hanging space for shirts as well as longer items like coats and dresses. The space can be organized just as you like it, with places for your collection of shoes, sweaters, or accessories (or all of the above.) There will be room to really make this space your own, and make it function in ways that old small closet just could not.
Creating a new walk-in closet can absolutely add value to the home for you as the current owner and occupant. It can also be a great appeal for resale value. Whatever size home you have, with some thoughtfulness, creativity, and some good design/build help, you can create the closet space you've always wanted.
Want to learn more about the benefits and risks of converting a spare bedroom into a walk-in closet, then please consider downloading the free eBook titled "The Essential Elements of Renovating an Older Home."