Is your first-floor layout everything you want it to be? Maybe that long, narrow entryway is really starting to bother you. And you love having a first-floor laundry room, but it's really more of a laundry closet.
Entertaining is fun, but guests are always bumping into each other getting in and out of the galley kitchen - after which they have to find a room where there is space to mingle.
And, for whatever reason the previous occupants made this choice, there is one ridiculously big closet and then several ridiculously small closets on the first floor. You're feeling a little frustrated, because nothing is just right.
If any of that has a ring of familiarity, It might be time for a floor plan redo.
Imagine the Possibilities
The good news is there's no reason to be constrained by your current floor plan. You have options, from smaller scale projects to a total makeover.
You can work with an architect and interior designer on ideas that incorporate the "must haves" on your list. You can go all-in on big changes all at once, or set up a plan for changes over a period of time.
Some questions you might ask yourself: Where do you need more space? Would you like a bigger kitchen, more open and with better sight lines to the rest of the 1st floor? Where are you underutilizing space? Maybe you'd like to right-size some of those closets and create some built-in shelving and cubbies for storage. And that narrow entryway obviously has to go.
Above all, you want the space to flow with the way you live, and you don't want wasted space. This is where your architect and designer can really assist with options and expand those possibilities.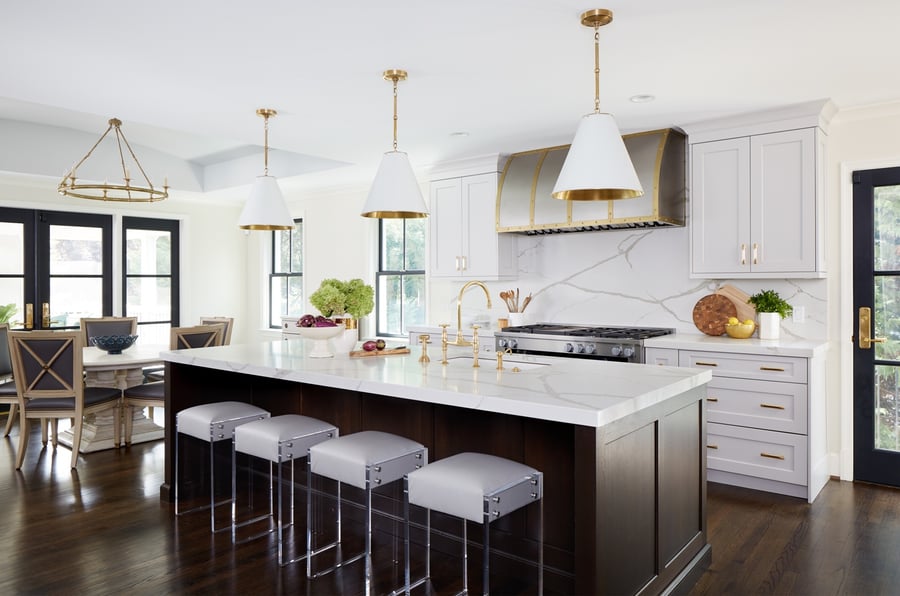 Building an Addition
Obviously, your overall current square footage is what it is. A redesign can definitely help you reclaim and gain more useable space in your floor plan. Efficient use of space is great, but sometimes that is just not enough.
This is the point when you consider building an addition. An addition gives you the freedom to really rethink the layout of that first floor. An unused formal living room can become a great room with taller ceilings and more space to move around. That galley kitchen can be a distant memory. Especially if your family's needs have changed since you moved into this home, an addition is where you can create space that reflects these needs.
Structural Considerations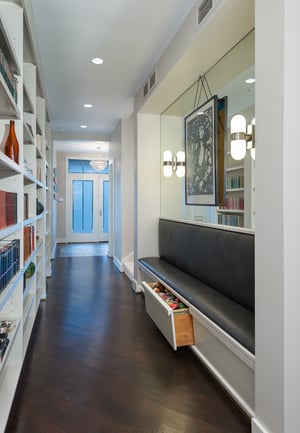 Whether you remain within the current footprint or opt for an addition, you will have structural changes to consider: You might widen doorways to make them into a passageway. You might look at pocket doors or barn doors to limit the impact of doors swinging in and out of a particular space. If there is a load bearing wall you'd like to move or remove, you will need to allocate time and budget to address this or similarly complex architectural changes.
Structural changes may also affect HVAC, electrical, or plumbing systems. The remodeling company has experience with assessing and planning for such changes in structure.
Design Considerations
Removing walls, expanding doorways, adding windows - all of those structural changes also mean rethinking the furniture layout. That wall the couch was up against is no longer there. Does the space still flow with the couch where it was, or do you have to reconfigure the furniture layout a bit more? What should stay in closets and what can go into those cubbies and other built-ins? If you are adding or taking away millwork, like crown molding or wainscoting, where should it start and stop? A designer will be able to take your Pinterest pages and offer advice on how to bring those to life in your new layout.
Maximize Your Dreams
If you are feeling confined by the layout of your home interior, there's no reason to stay stuck in those limitations. It is possible to find more space by analyzing how the space is currently laid out. You don't have to remain in that floor plan where nothing is just right. By looking at the current space and potentially considering additional space, that first floor can transform into a place where dreams come true. Want to learn more about the smart ways to maximize your first floor layout, then please consider downloading the free eBook titled "The Essential Elements of Renovating an Older Home."