Your master bath is functional, but just barely. It is showing definite signs of wear that are getting harder to ignore; mildew stains that no amount of scrubbing will eliminate, a feeling of claustrophobia that has not gone away over time. You've finally reached your limit. It's time to make this master bathroom beyond barely functional - you want to create a tile-enshrined sanctuary from the cares of the world.
Even before you go to Houzz or Pinterest for your ideal master bathroom design ideas, there are a few factors you should consider in the process. Consulting with a well-qualified design and renovation firm can be a huge help in guiding you through these factors, understanding your options, and asking the right questions to create the luxury master bathroom of your dreams.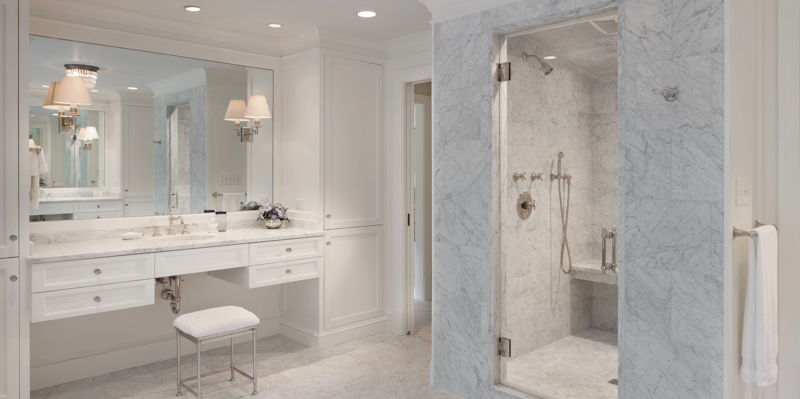 Master Bathroom Addition or Interior Reconfiguration?
What does your dream bathroom look like? Do you have space for all the amenities you are looking for with a reconfiguration of existing square footage in your home? Maybe it makes more sense to build an addition for the master bedroom/bathroom suite, or as part of a larger renovation project.
Before you can make a decision on the addition/reconfiguration question, you need to consider the must-have elements in your bathroom renovation.
Elements of Your Master Bath Configuration
It comes back to the question: what are you dreaming of? Depending on your available space and budget, you can begin with a lovely three-piece master bath including vanity, glass shower and toilet. From there, the sky's the limit: add a second vanity, free-standing tub, upgrade to a steam shower?
Working with an experienced design and renovation firm will allow you to choose wisely the components to create the master bath of your dreams and respect your budget as well.
Luxury is in the Details.
You are thinking about those luxury finishing touches, and now this is starting to get fun. This room will be utilized on a daily basis, so this is your opportunity to add the luxury details you want within your budget. Maybe you literally can't remember the last time you took a good soak in a bathtub. The kids had fun playing in the jetted tub as pre-schoolers, but those days are long gone. Consider taking the space used for that big tub and create the ultimate frameless walk-in shower, with multiple shower-heads, maybe a steam feature - what are you dreaming of?
The point is, this is your space, so make it your own. Your design and renovation firm should have tips on maximizing your budget to make the best use of the space available to get the results you are looking for.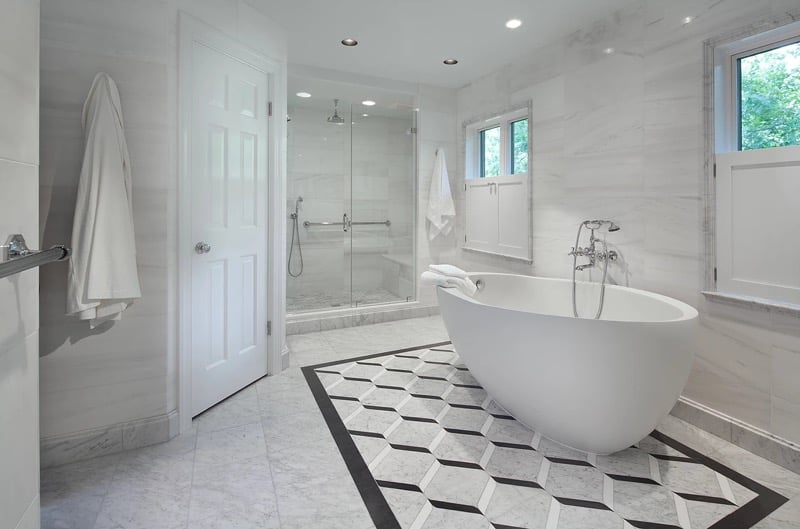 Bigger is Not Always Better
A master bathroom does not have to be a huge space to be luxurious. You don't need a long commute from the shower to the vanity. You just want a beautiful space to enjoy as you go about your daily ablutions. So definitely create all the space you need within your budget, but as you are working with your designer, understand that when it comes to master bathroom spaces, a lot of luxury can be achieved in limited space.
A note about pricing: This is not just a room with drywall, paint and some flooring. Even a relatively "small" master bath can be expensive due to the fact that baths are labor intensive and incorporate more expensive materials. It is a truism that the most beautiful and desirable finish materials will cost more. Most people want something special in a master bathroom. So even a small bathroom renovation might feature ceramic tile, natural stone, upscale plumbing fixtures, frameless glass. All those kinds of goodies can add up.
Bonus X-Factor: Your designer is your go-to resource.
You should be able to rely on your designer to interpret your style preferences and steer you toward the types of materials that will delight you but stay respectful of your budget. The right design and remodeling firm will help you evaluate the space, and develop concepts to correct problems, maximize functionality, and improve aesthetics within your budget.
Want to learn more about the factors to consider in luxury master bathroom designs and renovation, then please consider downloading the free eBook titled "The Essential Elements of Renovating an Older Home."