When is it a good idea to follow through with those renovation projects you've been thinking about? Let's take a look at why it might be a good idea to finish off some of those unfinished spaces in your home, to make the most impact on your lifestyle and improve resale value.
When thinking about renovation, the first question should always be: Will I use this space and enjoy it? But when it comes time to sell, the ideal is for any renovation to have a positive impact on your home's value. Finishing any unused space in your home can add value to it and produce a positive return on investment.
Creating Finished Space
That drafty attic and dark basement are not going to be high selling points. One pragmatic reason to finish off more living space in your home is that buyers are paying attention. Price per square foot is calculated and viewed on websites like Zillow and the new MLS services.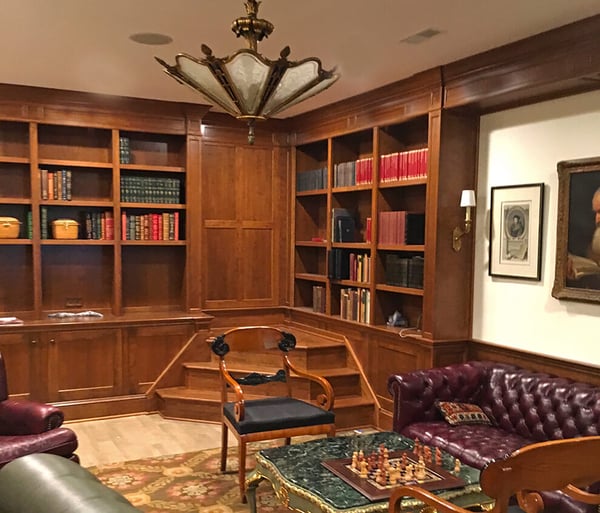 This basement library/office is a few steps down from a basement storage area. Full sized windows look out to the backyard. There is a wine storage room near the doorway to the lower level patio.
Theo Adamstein of TTR Sotheby's International Realty sees this playing out in the market. "In the new MLS system, they now include the dollar per square foot value of a listing. Dollar per square foot is based on finished square footage. Whatever one does to raise the quality of the spaces in a home will come back to the owner in terms of a much better potential sale price."
Understand that "above ground" finished space is always perceived as more valuable than below-ground space. So consider above-ground space first, but keep in mind that there is more expense in creating new space from scratch rather than finishing off the attic, basement, or other partially finished space in your home. With basement remodeling, for instance, the actual cost of getting new usable square footage added to the house could be significantly less expensive than adding a new addition.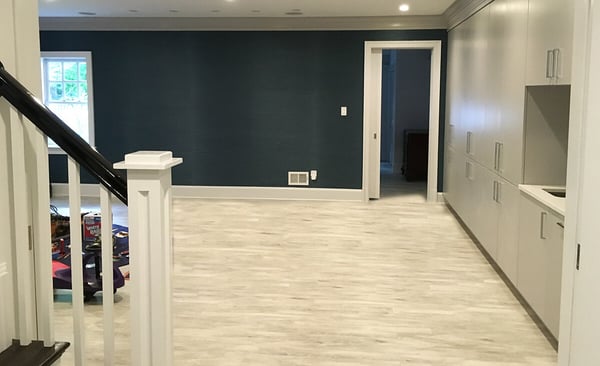 This finished basement family room gets lots of natural light from full sized windows facing the back yard.
Also, not all basements are the same. If you had an unfinished walkout basement, the return on your investment (ROI) would be higher than finishing off a fully underground basement.
But you've got to work with the basement you have. Theo Adamstein relates the story of clients who owned a historic Georgetown home. You guessed it; the cellar was not correctly prepped and ready for a smooth renovation. But Theo knew the ROI was there. "They dug down about a foot and a half in the basement and they created a finished lower level space. As they considered this project, they asked if this would be the right decision in terms of resale. I encouraged them to go ahead with the renovation because not only did they add finished square footage, but by adding a wonderfully designed new space they could enjoy it now and new owners would enjoy it as well."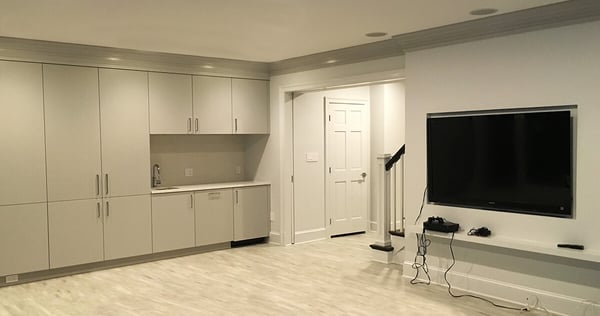 This finished lower level family room features plenty of storage, a wet bar, and built-in media console.
Getting the Most Out of Your Basement Renovation
Often, when it comes to finishing off existing space, your basement is a natural choice. Basement space is so versatile. Whatever is missing from the main floor plan, there is potential for the basement to be the solution.
When considering this step, make sure the finished space is something you value yourself. The most popular renovations include an open room for games, recreation and a guest bedroom with at least a ½ bathroom. Media rooms are becoming more and more popular, with integrated AV for the best sound and display experience possible. Consider a wet bar, fitness room, or wine cellar as well.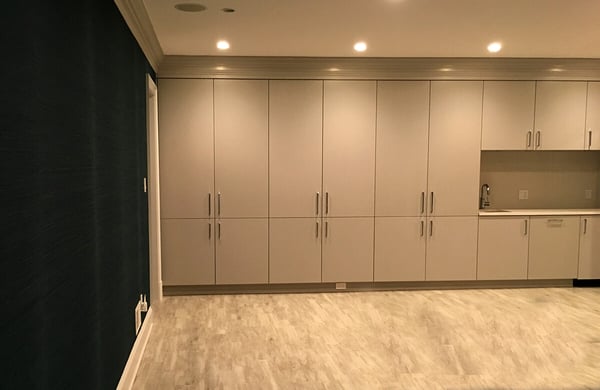 This sleek ,contemporary styled basement family room features undercounter beverage refrigerators and plenty of storage.
Basements do present some unique challenges, so in the next post, we'll discuss some of those challenges and how to overcome them.
If you are interested in basement renovations for your home and are curious about the potential return on investment, contact Gilday today!
Want to learn more about the choices that affect a basement renovation, then please consider downloading the free eBook titled "The Essential Elements of Renovating an Older Home."