If you grew up in a 1940's-era colonial, you might remember Mom and Dad's tiny but efficient bathroom. It likely had a single pedestal sink, a toilet, and a small but usable tiled shower stall. How they navigated that space, nobody knew!
Or maybe you grew up in a development built in the 80s and 90's. Mom and Dad's bathroom was palatial, with a spa tub taking up enormous amounts of real estate. Today, you could get your daily step count in just walking from the tub to the enormous double vanity.
Now you've got your own home to worry about. If your master bathroom has not been updated it is likely high on your to-do list. You want the vibe of a quiet oasis, but you don't want to park a Segway in the bathroom just to get from point A to point B.
These days you might be adding small en suites or a jack-and-jill for the other bedrooms, but the master bathroom deserves special attention. What are the considerations you need to be aware of to update from that recently purchased 40's colonial, or the 90's era executive development home? How do you find the Goldilocks "just right" bathroom design?
Size and Scale
Size and scale are a key consideration from the design standpoint. The definition of luxury in an owner's bath design is no longer defined by size. The luxury now comes from the aesthetic experience a well-designed bathroom provides to the user.
Here are a few things designers are doing to bring a feel of understated elegance to the master bath:
Frameless glass shower enclosures, or...

Enclosed or even open space featuring both tub and shower area

"Floating" vanities

Patterned tiles and pops of color

Smart tech consoles to control lighting, AV, and temperature

Radiant floor heat

Heated towel bars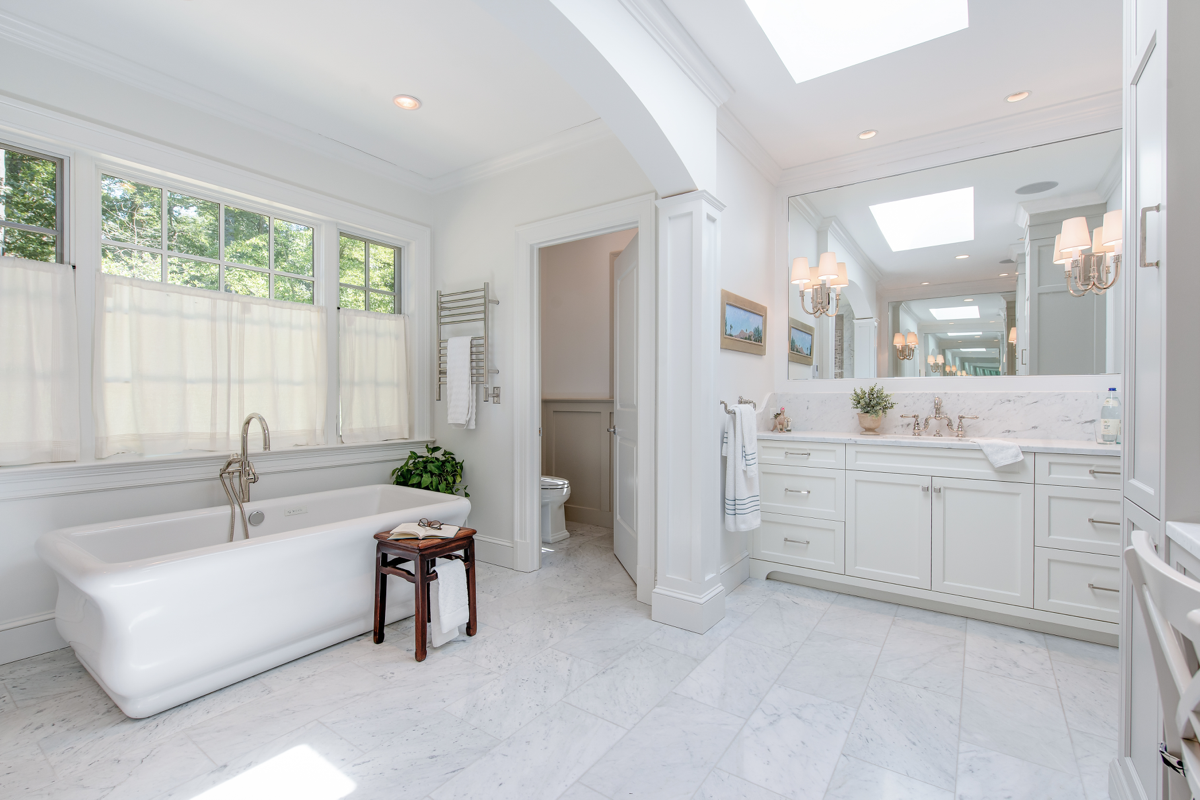 Design choices like these bring vitality and an open feeling to even a relatively modest-sized bathroom.
Current master bathroom designs are maximizing space without wasting space. Design concepts are conceived and executed with the emotional impact—how will I feel when I enter this space?—as the guiding principle.
Homeowners are seeking a splash of luxury that brings comfort, beauty, and a feeling of open space to a room they use every morning and evening. A good bathroom designer will have a strong sense of what works in a given situation. They can be invaluable in helping you to make sound decisions that will work for you now and years into the future.
Master Bathroom Examples
There are many ways to achieve the look you want in a master bathroom. Here is an example from Potomac, MD of an update that took the existing footprint—the size of the space was on-point—and elevated the aesthetic with floating vanity, frameless shower, and variety in the tile work. (Note the thin vertically laid tile on the tub surround in the image below.)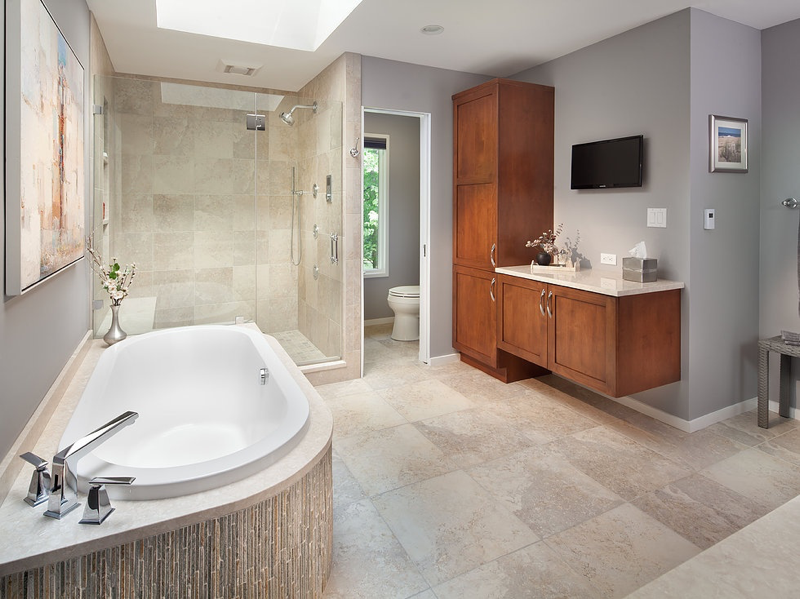 Or consider this update from Mclean, VA - where the owners opted for an open shower, raised vanity bowls, stainless towel warming drawers, and a frosted glass barn door (left foreground in image below) that artfully conceals a laundry closet.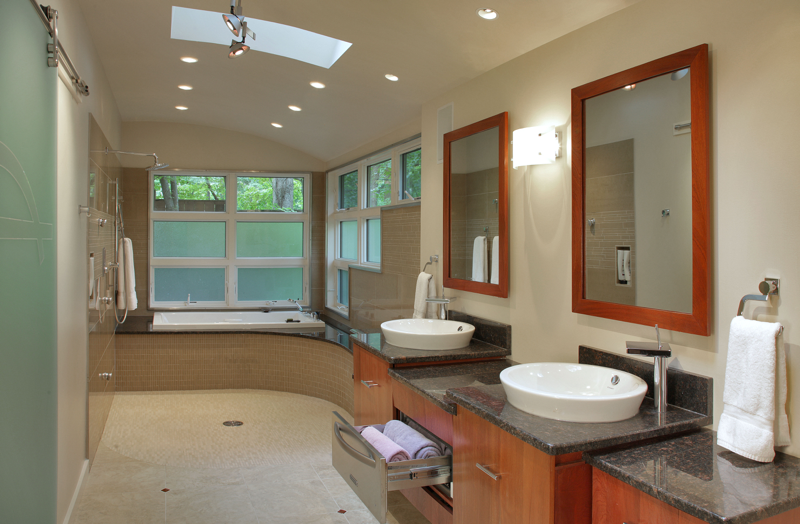 Updated elegance does not mean you are limited to one narrow aesthetic. Design features and use of space can work within your needs and wants regarding the use of this personal space in your home. A design expert can help bring your inspiration into a cohesive design, and the right builder can bring that inspired design to reality.
Right Size, Right Aesthetic
In prior generations, master bathroom design produced results that today may seem a bit forced. More than ever, a relaxed but luxurious aesthetic defines the master bathroom. As the owner's bath has evolved from en suite to master bath to owner's bath, the aesthetics have changed along with it. From a functional room to get in and out of, to a cavernous space that perhaps overcompensated for the smaller bathrooms of yesteryear, now each space in the master bath has a purpose, and the aesthetics are meant to create an oasis from the day's frenetic pace.
What are the concerns you have with your current master bathroom? We'd love to talk with you about what you are looking for and how we can help.
Want to learn more about how to bring your master bath into the 21st century, then please consider downloading the free eBook titled "The Essential Elements of Renovating an Older Home." or contact us for a discussion about your renovation project.