Choose the Right Contractor for Your Home Remodeling Project--Or Else
Sometimes we get calls from customers who haven't identified the correct type of home remodeling company to take on their project. It's a common mistake. The caller may express frustration because they've contacted several remodeling companies and can't seem to get a returned call. When they explain their project to us, it turns out they've been calling the wrong type of company--ours included.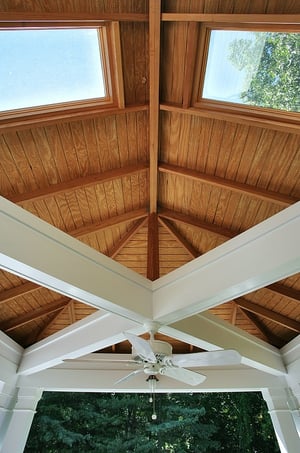 There are many types of home remodeling contractors in the Washington DC metro area. First, lets define "contractor". A general contractor is a home improvement generalist who provides construction services. The GC manages and builds a project. Typically, portions of the job are subcontracted to specialists such as electricians, plumbers, tile setters and painters. Some general contractors focus on siding, window and door replacement. Others specialize in kitchen and bath installation. Still others may specialize in carpentry services such as cabinet-making, built-ins or closet finishing. That's a contractor--a remodeling generalist or a specialist in a particular aspect of home improvement and maintenance services. Gilday is a design build firm--staffed and organized to take on design intensive home remodeling projects.
If your project doesn't have a strong design component, if you just need construction, we aren't the right choice. If the project is simple and straight-forward--say adding a deck or finishing a basement--you don't need us. You don't need a residential architect or design build firm for a small home improvement or maintenance project. Call a general contractor or specialty contractor.
Four Tips On Hiring the Right Type of Home Remodeling Specialist
Ask friends and colleagues for recommendations! Talk to people you trust--friends, colleagues, neighbors. If there is a particular company you are interested in, ask around: have you heard of such and such firm? what have you heard about them?
Get names of companies from job site signs or lists in magazines. If you aren't able to get personal recommendations, job site signs and listings in shelter magazines such as Washingtonian or Home & Design are the next best way to collect names of remodeling companies.
Make sure you are calling the right type of company. Depending on the size and type of project, you would call a general contractor unless the project calls for design and project management. Then you would look for a design build firm.
DO NOT call more than three companies. You will be wasting your time and theirs. A recent Washington Post article advised "Call as many contractors as you have time to interview. Collect written offers from all." NO. Don't do that. This tired advice turns up time and again. Phone several and meet with three. After that it just gets confusing--especially if you are collecting proposals.
One last word about free estimates and written proposals. If yours is a straight-forward construction project (e.g. deck, basement remodel, siding/window replacements) you should be able to request an itemized estimate. Otherwise, DO NOT.
We never give free itemized proposals or estimates on design projects for the simple reason that we can't estimate the cost of a project that doesn't exist. There are no specs. It has to be drawn--and drawings are not free.
Certainly we can advise prospective customers on budget requirements by referencing recently completed projects of similar type. If, for example, we are talking about a kitchen addition or master bath expansion or luxury porch addition we can speak accurately in terms of cost minimums.
Rule of thumb. If your remodeling project is of a labor & materials type, call a contractor. If it requires design services (architect, interior designer, kitchen & bath designer) call a design build firm.