The half bath -or "powder room" as we like to call it here in Washington DC- is probably the smallest room in the house, not much larger than a good-sized coat closet. Just like the coat closet, the powder room plays an important (though somewhat unglamorous) role in the household. They are there when you need them--and when you don't need them, you forget they are there. Most of the time a main floor half bath is used by guests in the house. That's exactly why Gilday interior designers encourage their clients to pull out the stops for a bathroom remodel and create a show piece.
Here are a five bathroom remodels that resulted in surprisingly lavish little powder rooms:
In truth, these little bathrooms are a lot of fun to remodel. We recently did a fun half bath remodel at a house in Chevy Chase Maryland. Here's what you see when you look up:
You really can't over design them.
These bathrooms are so small that when you put in a grand mirror or chandelier, the dramatic irony makes you chuckle.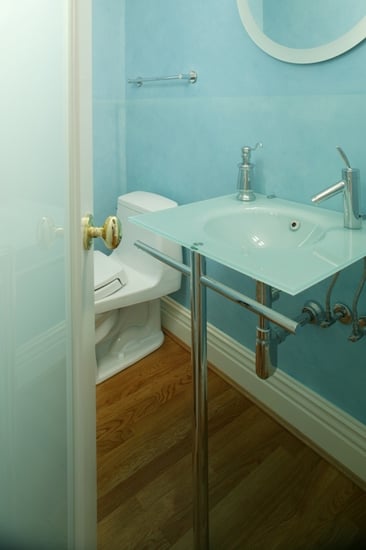 This Kalorama half bath done in a spare contemporary style features translucent glass sink and polished chrome exposed drain pipe
You and your interior designer can take it in any style direction that you want to try. And you can take it all the way down to the smallest and most personal of details.
A powder room bath is not the place to practice restraint. It is the place for bath remodeling extravagance. Have fun.