Should We Renovate, or Should We Vacate?
If you are considering putting an addition on your home, there is probably some aspect of your current living conditions that is wearing a bit thin, perhaps to the breaking point.
What do you need to be aware of as you consider whether to remodel your current home, move to a new home, or just live with what you've got? All are viable options, all have pros and cons attached to them. How do you weigh those pros and cons and arrive at the right decision?
There are no simple answers. But knowledge is power, so with that in mind, here are some things you should think about as you decide whether a home addition is the right choice for you and your family.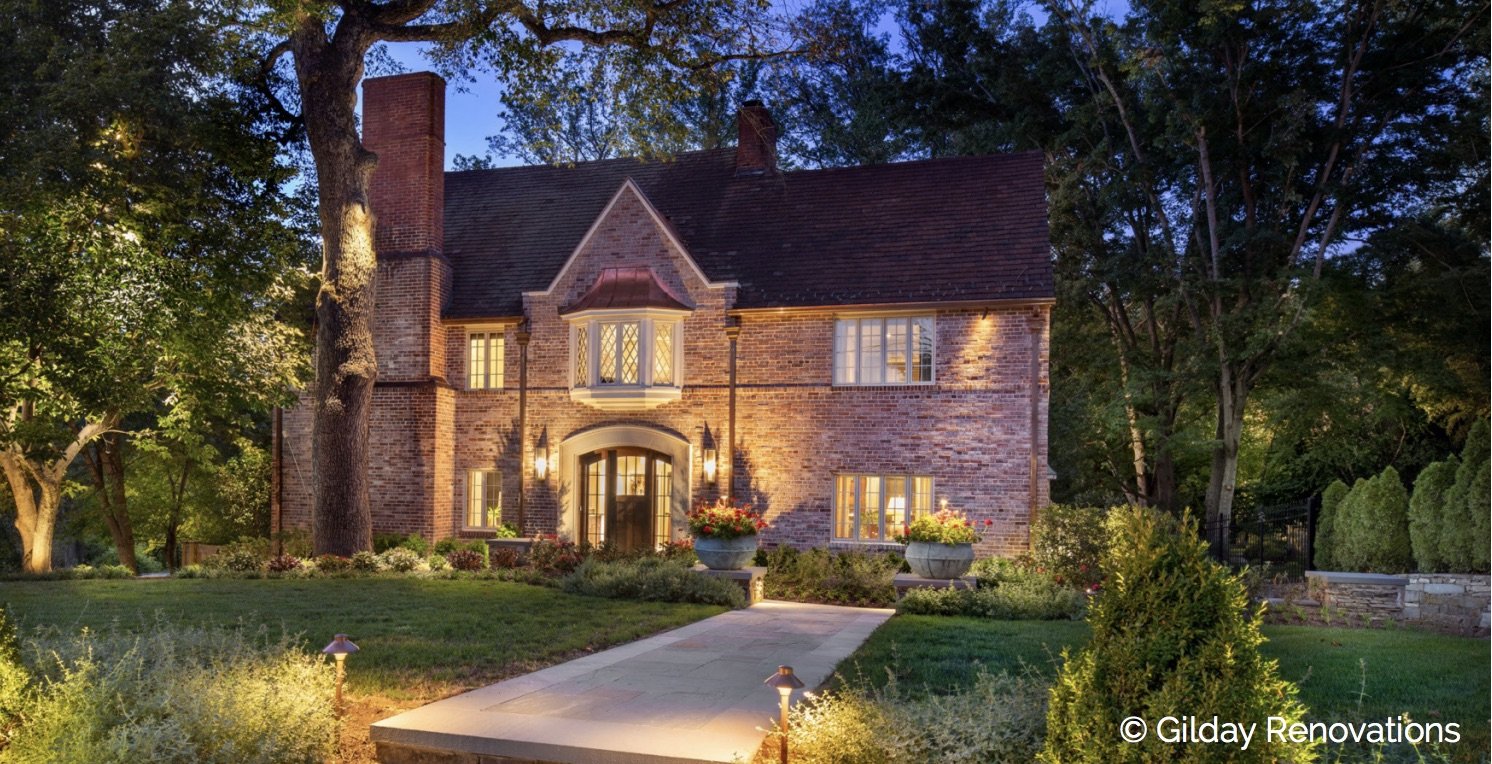 Build an Addition and Stay, or Move to a New House?
If you are grappling with the question, "Should we stay or should we go," the answer may be right there in front of you when you turn into the driveway at the end of your work day.
So, can we take the home we have and make it into the home we want it to be? You could end up spending millions of dollars to tear down and rebuild — but the neighborhood values need to support all that cost or you are underwater right from the start. Nobody wants that.
Perhaps you've looked at the cost of purchasing a new house somewhere else, but you love your local school, your neighborhood, your neighbors — and you don't want to uproot the children. You like where you live now.
It's not the home of your dreams at the moment, but it could be. You just need to find more space and the space needs to be used more efficiently.


Download your copy of this ebook by completing this form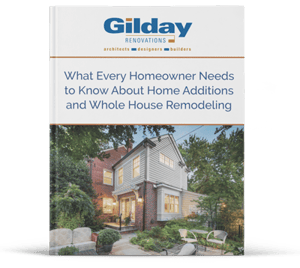 Project Viability: Cost of Investment
One of the first questions people ask when contemplating an extensive home addition and renovation project is: "Will I get my money back?"
It is important to understand the calculations that produce a reasonable amount to invest in an extensive renovation project.
Before you begin speaking to remodeling professionals, it would be wise to contact a real estate professional because, as they always say, location is everything. You want to have solid information about the historical performance of home values in your chosen location. Realtors have the experience and tools at their disposal to provide you with an accurate picture.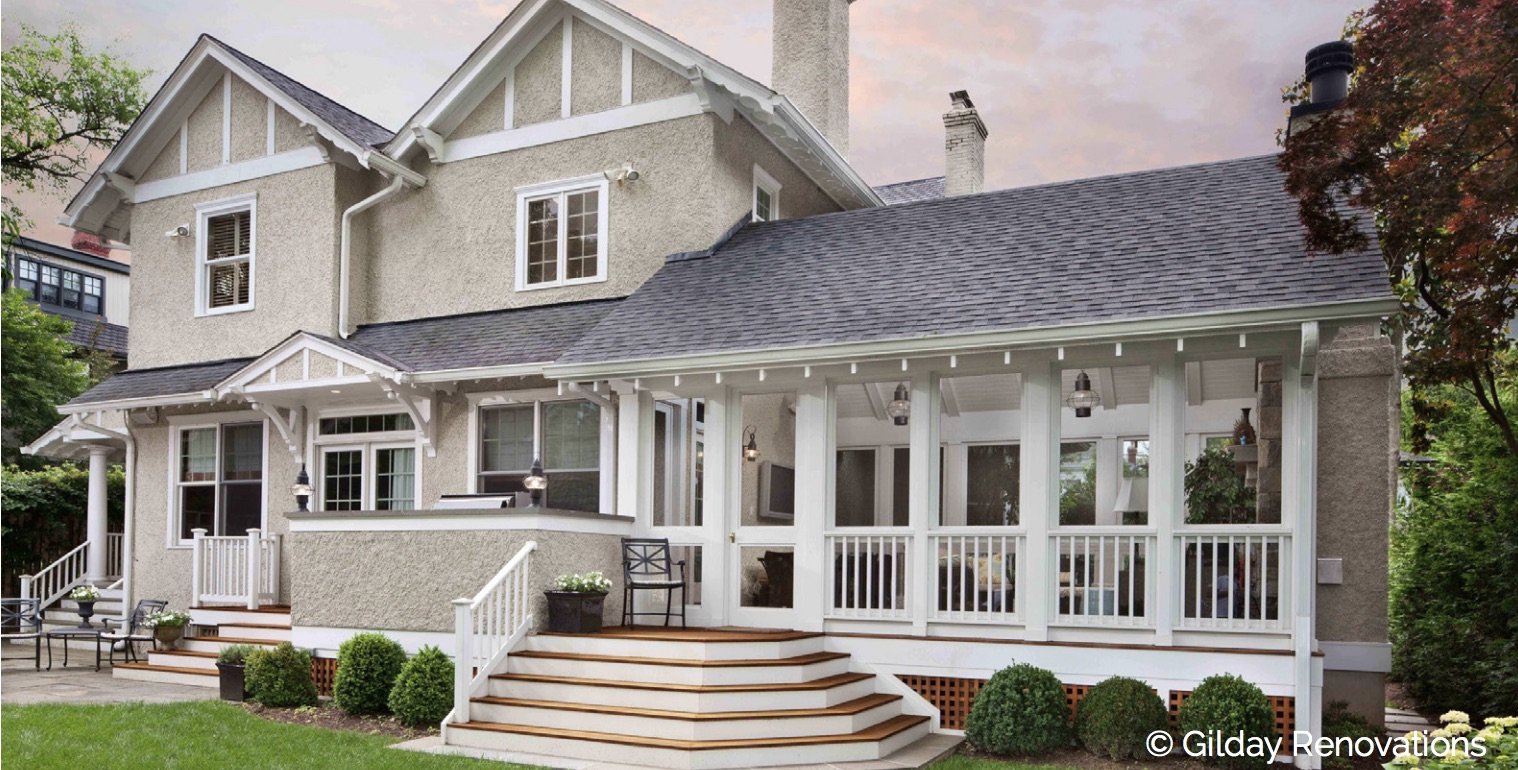 Looking at this question broadly, based on our forty years experience in the metro Washington DC housing market, we can categorize several levels of home renovation investment that can be reasonably pursued:


Investing 25% of the Home Value
For most people in the metro DC area, an investment equal to 25% of the purchase price of a newly purchased home is comfortable. For example, when updating a kitchen and a few bathrooms, the investment can be recouped fairly easily. The reason for that is that land in the DC area tends to appreciate at about 4% per year. And that appreciation is compounded. Most people stay in their homes between 5 and 7 years. So with an average 4% inflation per year x 7 years you'd at least break even if you had to sell.
It is important to understand that growth in home values occurs in erratic bursts, not as a steady per year increase. So, you cannot depend on the real estate growth timeline to precisely match your timeline for living in the house. That's why it is important to weigh the up front cost of the investment against how much you expect it to improve your lifestyle for the time you are in the home.


Investing 50% of the Home Value
At 50% of purchase value, homeowners are expecting to be in the house for ten years or more because they love the schools, the neighbors, and the surrounding neighborhood — and maybe their kids don't want to move again. Once again, the immediate ROI is the pleasure gained from making the home exactly as you wish it to be.


Investing 100% of the Home Value
People who double the value of their home at a 100% investment are "lifers." Very often they are planning to raise a family there. They have done the research and feel confident that their house is in a neighborhood that is popular and desirable, that the property will hold enduring value for future home buyers. If you know there are neighbors whose home values are twice as much as yours, you can then move forward with the expectation that your investment, too, will be supported by comparable home values in the neighborhood at large.
No matter how much you plan to invest in your home it is critically important to look at the comps. Your realtor can be a tremendous resource in this respect.
In addition to having a grasp of the historical trends in the neighborhood, they may have past clients nearby who renovated, and will be aware of how that investment worked out for those homeowners at sale time. Having the expertise of a real estate professional combined with that of a remodeling professional ensures you will have the best possible knowledge at your disposal for making the right decision.
Answers to Common Questions About Home Additions
Here are some of the most common questions homeowners ask about home additions, followed by some questions they usually do not ask — but should.
Questions homeowners typically ask:
Q: Are there any conditions that could put limitations on my home addition plans?
A: Every project must conform to local zoning regulations. Setbacks and available space for additions must be carefully examined to assure there is enough land available for building an addition. Zoning laws vary from one jurisdiction to the next, but generally they prescribe what percentage of total lot space is buildable and how much distance must be kept between structures and property boundaries.
Some townships require tree protection and stormwater management plans to be submitted in advance of a home addition project. Historic districts may have additional restrictions on changes that affect the exterior including paint colors and types of materials that are allowed.
Q: Is a bigger addition with more square footage the smart way to go in terms of getting the most for your money?
A: No. Bigger does not equal better. A good design firm will base the size of the addition on the needs of the client. The interior room dimensions will be designed to accommodate the function of the space. If a room is too large it will contain dead space, if too small, it won't comfortably fulfill its purpose. Either way, the room won't feel right.
Having said that, in the Metro Washington DC market, added square footage is most often a net positive in terms of resale value. Even if it costs you more the first year to build your addition, the square footage of your house is going to be a driving force in any appraisal that you might receive on the value of your home later on.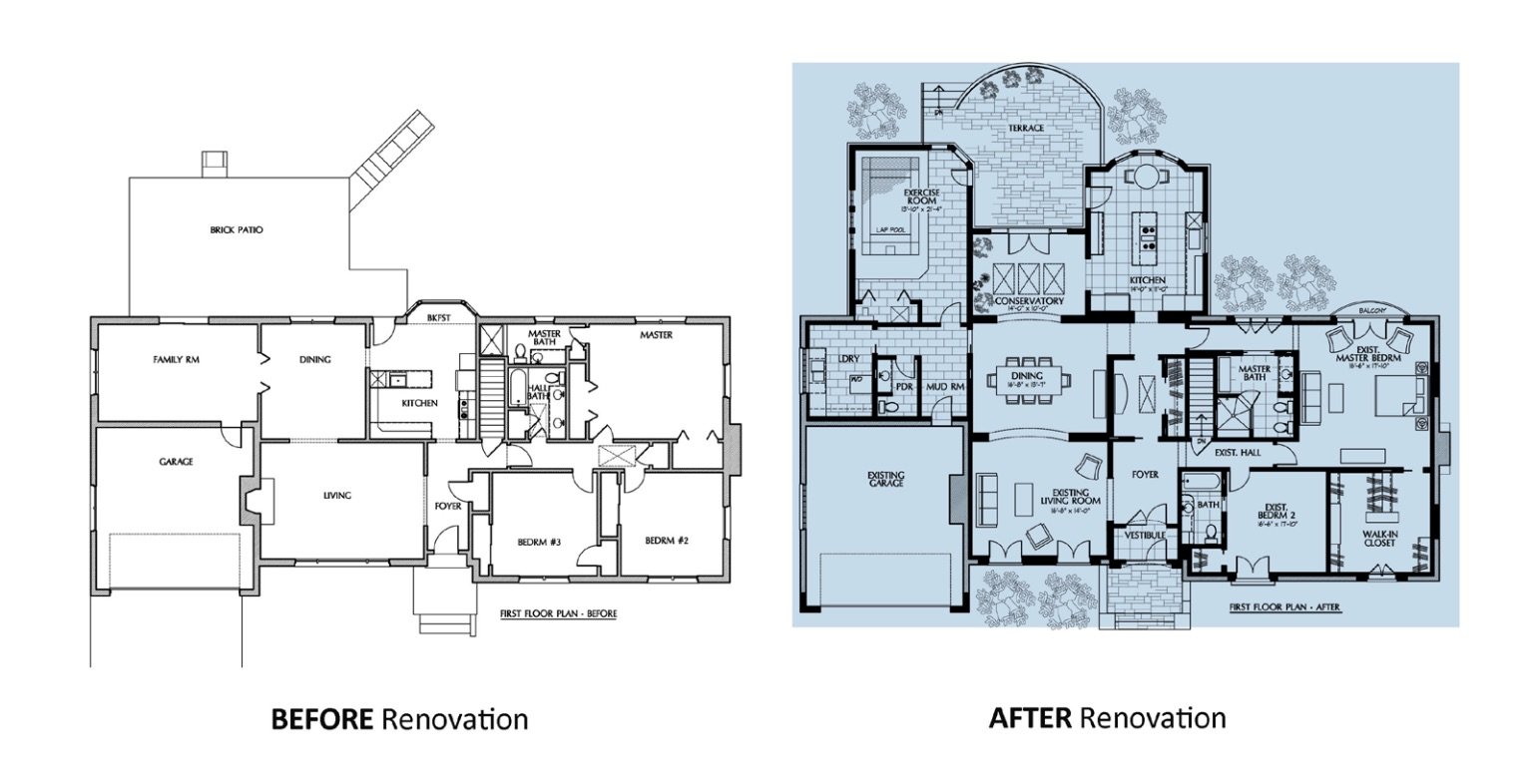 Q: Realistically, how long should we expect this type of project to take?
A: The duration of a remodeling project depends on the size and complexity of the project. A small single-story addition will be very different from a large, two story addition. The time it takes to secure building permits can vary greatly from one jurisdiction to the next.
Q: Will I have to move out of my house during renovations?
A: If the scope of the project is a kitchen renovation and addition, you should be able to stay in the home while construction is in progress. There is no need for the crew to enter the main house until the new addition is substantially built and closed in. At that point, the crew would break through the exterior wall of the house to join with the new addition. In preparation for this, they would erect a secure dust barrier wall to separate the living space from the construction space. Some companies will use components of your old kitchen to construct a temporary kitchen for use until your new one is ready.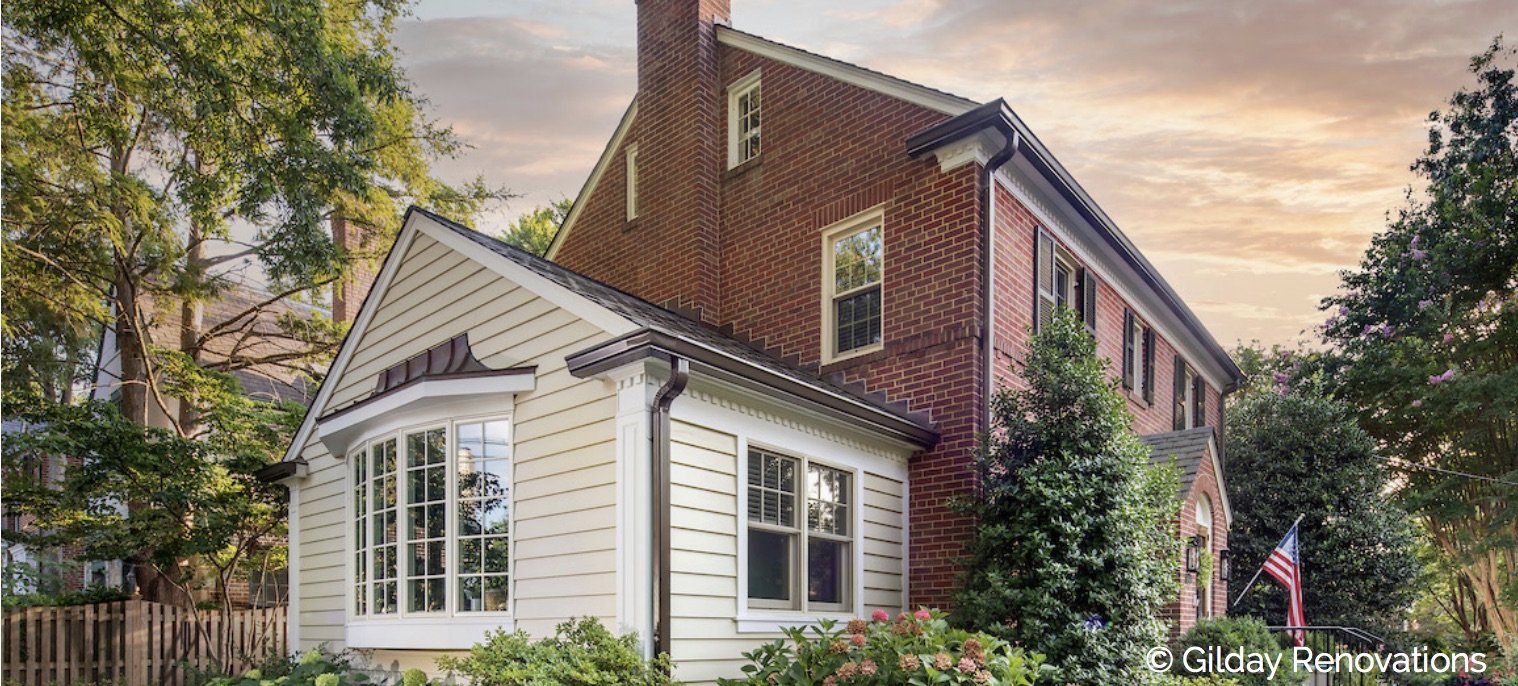 Q: My home is in a historic district. What will that mean for my renovation project?
A: Generally, standard modern materials are less expensive to purchase and install. Houses that are more historical or have old fashioned, expensive materials like stone, slate, brick and real wood siding are more expensive. There are also design details to consider. You might live in a neighborhood of Victorian homes and you want the addition to look seamlessly part of the overall structure. For instance, you may want sculpted rafter tails on the roof overhangs. Details such as these contribute to higher cost because they are often fully custom.
Questions homeowners do not usually ask but should:
Q: Besides the addition which is new work, what types of renovations are usually necessary or recommended to make the addition project work?
A: In order to blend the addition into the flow of the home, changes in adjacent spaces often need to be made. It might be necessary to change access points between rooms, add or remove a hallway, or work around plumbing and ductwork. There will be flooring to refinish to blend seamlessly between the existing space and the new addition.
Q: What problems am I trying to solve by adding to my home?
A: You want to really think about this before you invest a lot of time interviewing design firms. Points of concern may include space that is poorly laid out, hard to furnish, dimensions where everything just feels slightly off. A big pain point is when people are bumping into each other in the kitchen.
Q: Are there solutions to my underperforming space that could be remedied without adding on?
A: Yes. Designers can often maximize usable space by making smaller changes. To remodel without an addition, it's important to think about how you currently use your space versus how you would like to use the space ideally. Working within the existing footprint of your home, there are frequently ways to optimize space and make the flow from one area of the home to another more intuitive. For instance, is there a rear mud room that is being underutilized or a dining room that is oversized for your needs? You might move a wall and give some of that space to the kitchen. Is the primary bedroom too big? You could take two feet from the bedroom and either transform it into a wall of closets, or give it to the room next door.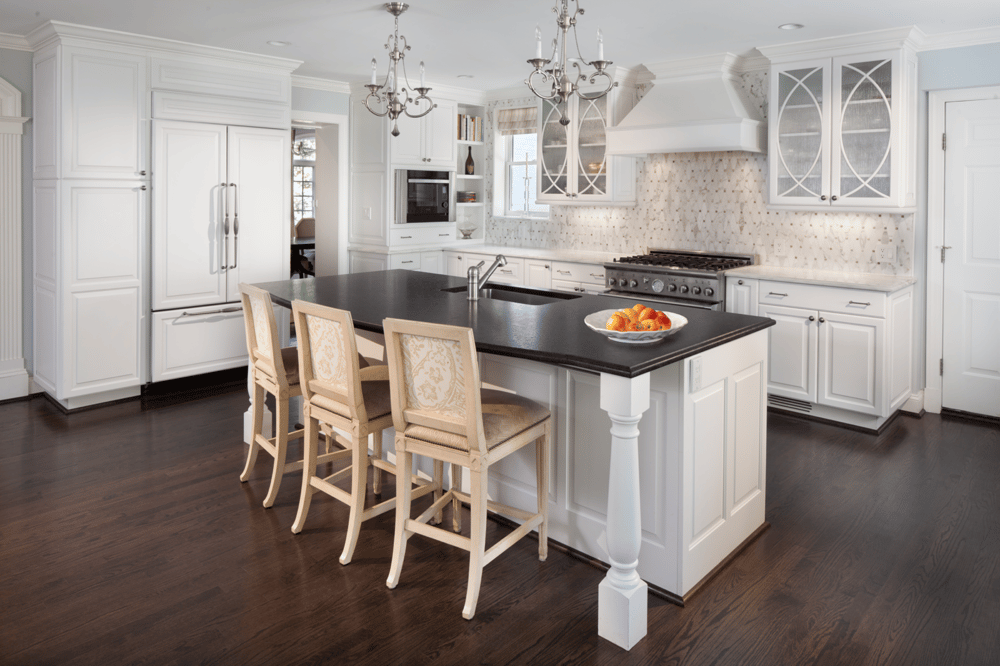 Examples of What to Expect from a Home Addition Project
The approach your designer takes will make all the difference in the end product. A design/build firm will have all the expertise in-house to take your addition or whole home renovation from idea to completion.
To demonstrate the transformative possibilities of design in a home addition project, we have two examples. Both happen to be two-story additions. However, in order to zero in on specifics, we are going to look only at the 2nd floor renovation of one of them and the 1st floor renovation of the other.


Project 1: Two Story Addition in Barnaby Woods DC
This is a classic case where the homeowners realized with the imminent arrival of their third child that they were going to be short one bedroom in the house. They could double up the two young ones for a few years, but then they would have to do something.
They loved their forest-like neighborhood close to Rock Creek Park and were very happy with the schools and proximity to work. They explored a number of options including finishing the basement to get the needed bedroom. Ultimately, they decided a two-story addition would best serve the needs of their growing family going forward.
We are going to limit our exploration to the second floor renovation because this was the prime motivation for the addition.
2nd Floor Lay Out Before and After
The existing floor plan on the left shows the typical brick colonial tiny "primary bath" attached to the primary bedroom. Sharing a wall with that bath is an even smaller hall bath at the top of the stairs. Note in the primary bedroom that the small closet also doubles as access to the attic. That is going to change.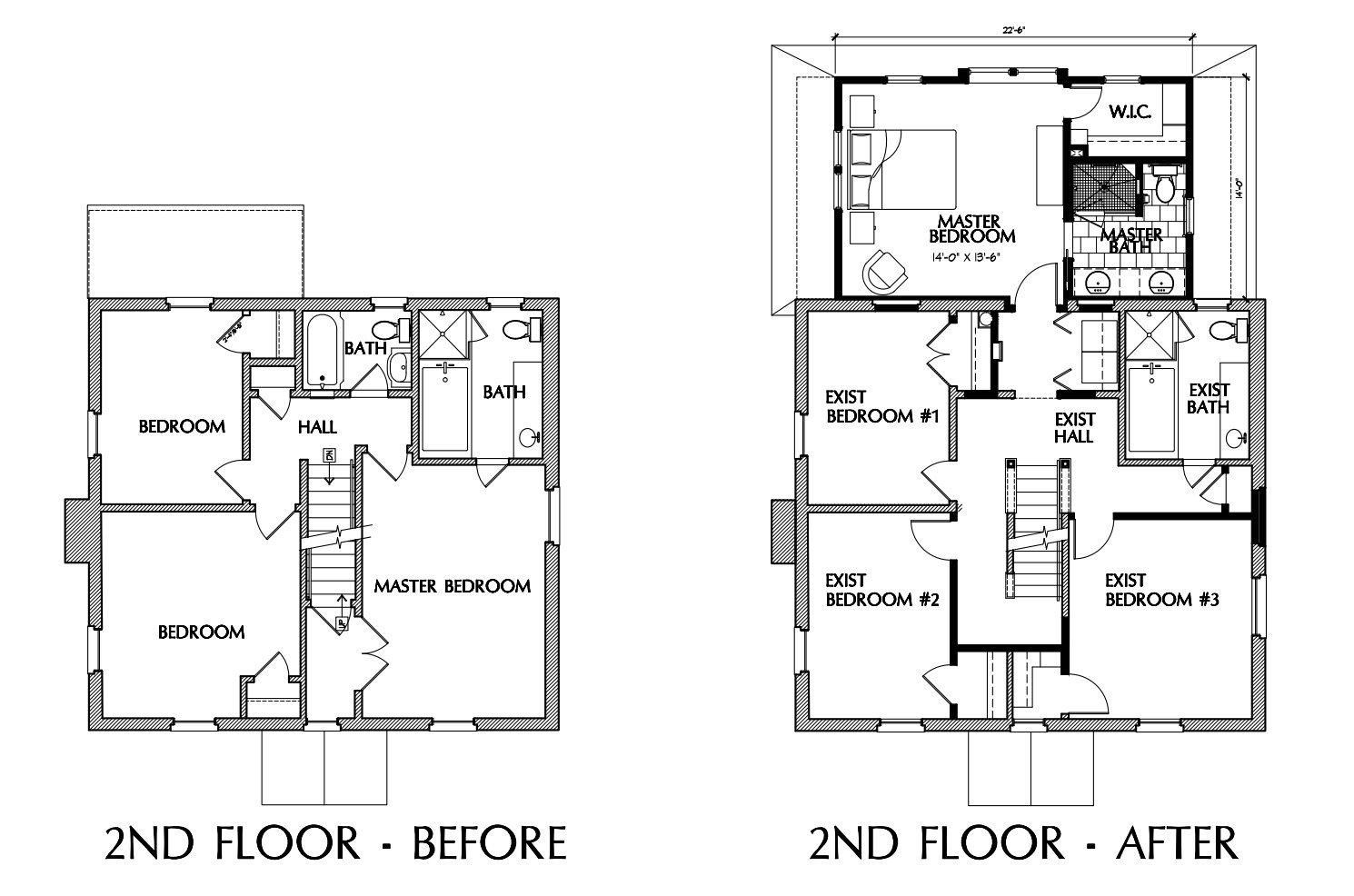 Before we even get into the addition of the new primary bedroom suite, look at what the designers did to reconfigure the existing space to get the needed children's bedrooms:
1. The former primary bath was repurposed as a larger shared bath for the (now) three existing bedrooms.
2. The three existing bedrooms were all made slightly smaller to create hallways giving access to the former primary bathroom and, most importantly, stairway to the attic.
3. All three bedrooms were given double closet space.
4. In the new pass thru to the new primary bedroom suite, note a laundry closet was installed.
In the newly constructed addition, we now have a spacious bedroom, bath, and closets for the parents.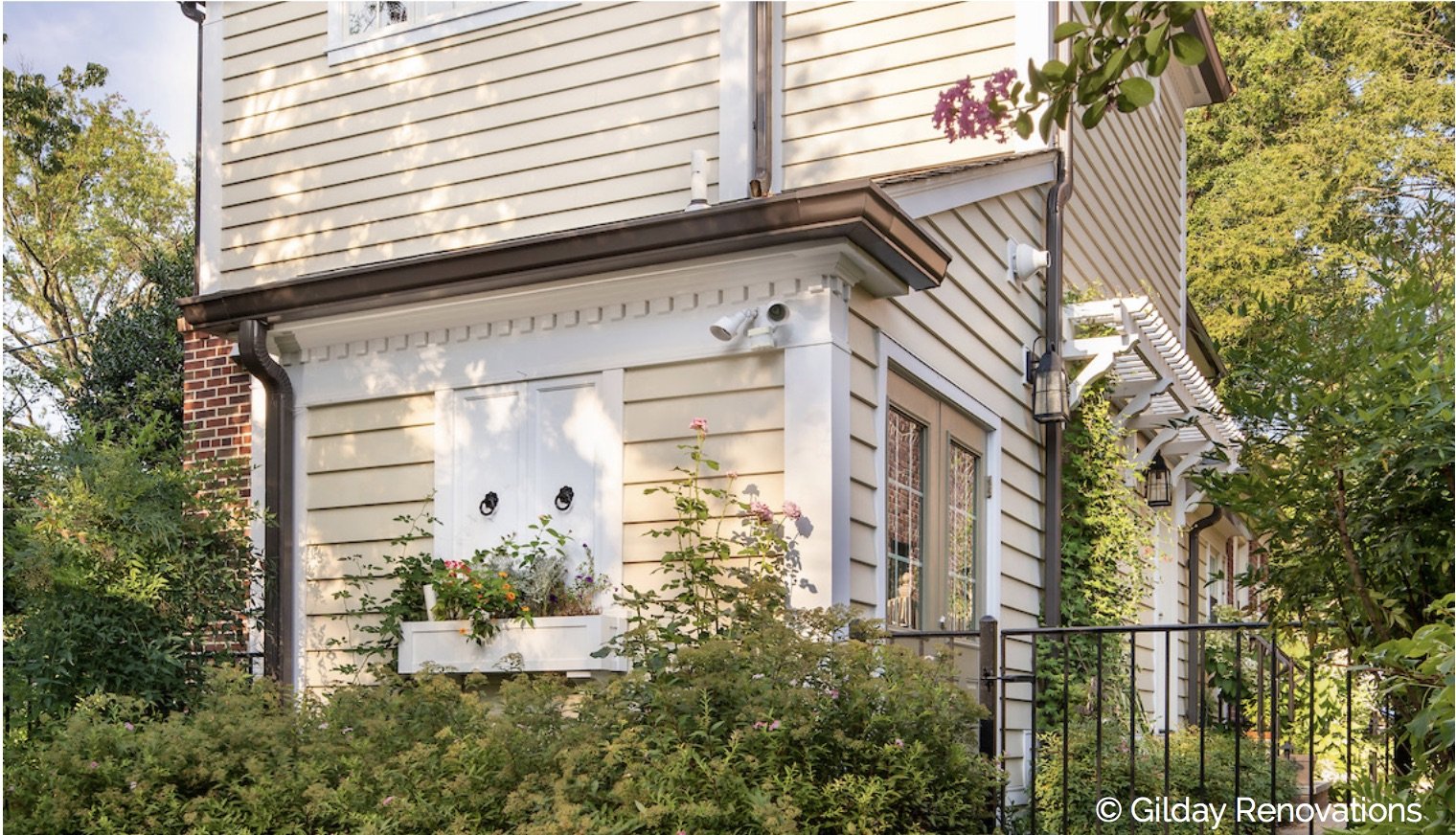 Project 2: Two-Story Addition in Cathedral Park DC
This home addition, while doubling the size of the house, provided an opportunity to reconfigure the entire first floor plan making new rooms from the old space.
In this scenario, the plan was to expand and modernize a solid well-built home located in the popular Cathedral Park neighborhood in Washington DC. The owners wanted to put down roots and stay a long time in a neighborhood that would support their investment over time.
On the plus side, their home possessed distinctive old world character and some interesting architectural flourishes. The living space on the interior presented some issues for the owners.
They wanted a "real" foyer where they could greet guests and a generously sized coat closet
They wanted a single hallway that connected the front of the house to the back because they didn't like zig-zagging through a series of small rooms to get through the house
In regards to the overall main floor layout, it didn't feel comfy or gracious when you walked in and didn't flow easily from room to room
This design plan was conceived to enhance the unique characteristics of the existing house and to free it of its former limitations. Notice the size of the old kitchen (left) compared to the new design (right). See how the designers expanded the dining room (right) when they eliminated the old kitchen. The old living room (left) was reconfigured to create a foyer and den (parlor).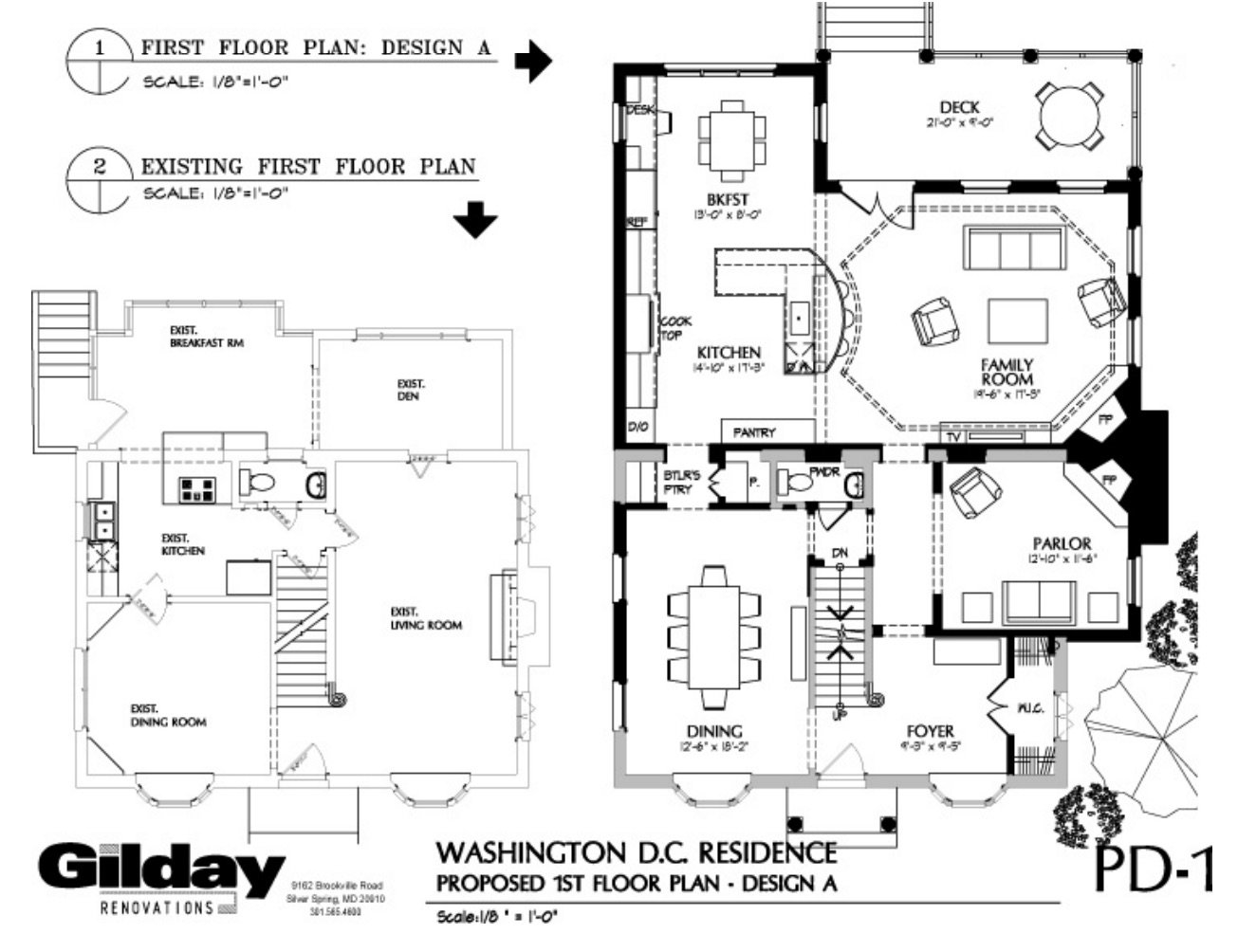 There are many small changes and reconstructions to note, but it should be clear to you now that the process and value of home additions and renovation can't be compared to purchasing a new construction home. Renovation designers pack a lot of thought, care and value into precisely the right amount of space. It is neither over-built or under-built.
The homeowner's requirements allowed the designers creative freedom and they pulled out all the stops. This is an example of a total transformation that takes its cue from the architecture of the existing house and seamlessly integrates the new work with the old by fine tuning the design to the existing architectural details to match the style. Massively increasing the livability and functionality of the former space in combination with the new.


Download your copy of this ebook by completing this form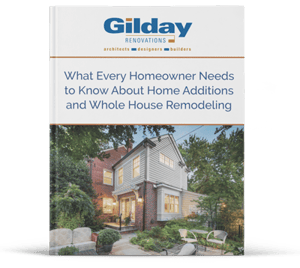 When Should You Stay and When Should You Go?
Renovation is definitely less disruptive to family life than moving altogether and less risky than a tear down/rebuild. There are many ways a home addition can solve the challenges you have been experiencing in your current home. If you've done the research and it shows your neighborhood will support the improvements over time, building an addition can completely transform your home life today while contributing to its improved market value in the future.


If you are considering a home renovation, please feel free to schedule your home renovations discovery session with Gilday today.