The Cost of Home Additions vs Buying New Homes
Sometimes a prospective client will ask, "What's the cost per square foot for home additions?" We can give you a reasonable idea of the average cost of a home addition because we design and build so many of them. But the specifications are entirely custom for each project. Sometimes—and this is counter-intuitive—a large addition will appear to cost less per square foot than a smaller one. This is a fundamental difference between custom home remodeling and new home building.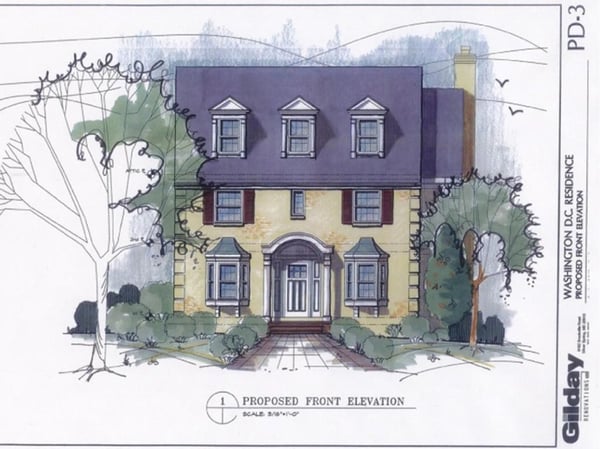 The architect's rendering shows stylish accents meant to bring the front elevation up to design standard with the new additions planned for the side and rear of this DC colonial
It's Basic Math
The cost of home additions may appear to be way more expensive (per square foot) than the cost of new home construction. Why? Because in a new build, the cost of the most expensive rooms in the house (kitchens and baths) gets spread over double or triple the square footage. Remember, in Washington DC, we are building on fairly small lots. Most home additions take up less than 1,000 square feet of new space. So, there is no extra square footage to disguise the cost of the more expensive areas. A custom renovation (e.g., two-story addition with a master suite, modern kitchen and family room) packs a lot of quality into a small area—and adds tremendous value to the home. That's why trying to put a value based on size (cost per square foot) is a skewed basis for comparison.
Think "Value" Per Square Foot for Home Additions
Remember: "Custom" costs more than "off the shelf." By way of example, here is a first floor layout for a two-story addition we designed for a Washington DC residence.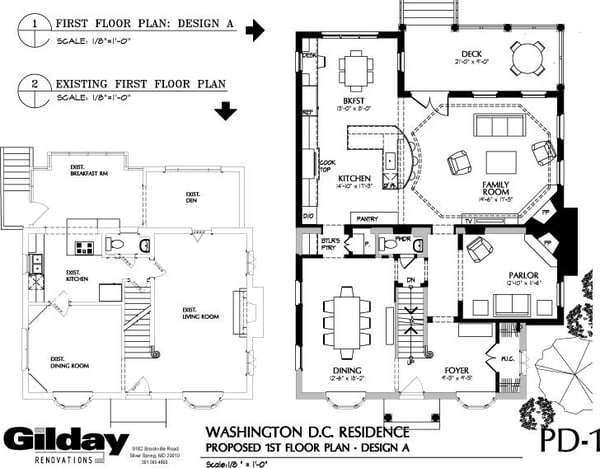 An addition doubles the size of this house providing an opportunity to reconfigure the entire first floor plan. The value of the new rooms is extremely high.
This design plan was conceived to enhance the unique characteristics of the existing house and to free it of its former limitations. Everything about it is custom. Compare the size of the old kitchen (left) with the new design (right). Also, you can see we expanded the dining room (right) when we eliminated the old kitchen. The old living room (left) was redesigned to create a foyer and parlor. The addition provided space for a new kitchen with an island, a breakfast nook, and a family room which completes the reconfiguration of the first floor plan.
This side elevation shows new additions appropriately styled to resonate with the character of the original home.
It should be clear now that the cost of home additions and custom renovation cannot be compared to the cost of new home construction. There is a lot of thought, care, and value designed into a comparatively small area. What a renovation may lack in size and interior volume, it makes up for in high quality customization and "right-sized" room dimensions.

Do you ever wish for additional space in your home? Sometimes the most satisfying solution to this issue is to add-on to your home--especially if you love the neighborhood you are in. So, before you give up and put your house on the market, give us a call. If it turns out that an addition is a viable option, you may realize that the cost of an addition may even be less than the cost of preparing your home for sale, moving, and purchasing the new home.
And before you make that call, do a little preparation by reading our eBook "How Gilday Renovations Integrated Team Delivers the Home of Your Dreams."