Smaller and Bigger
When remodeling an older condo unit we encounter many of the same problems as we do when we remodel an older home--only smaller and bigger. What I mean is, the space is usually smaller. So the problems feel bigger. The aesthetic absences or spatial limitations are felt more intensely because you can't get away from them. So, if the kitchen is too small. Too bad. Well... not really.
Something Special
What can we do? There is no possibility of building an addition to gain the needed space. We can, however, be very clever about maximizing the space we have. With a well thought out interior design plan and detailed craftsmanship we can overcome the most vexing limitations. We can take a space that is kind of dingy and transform it into something really special.
Gilday lead carpenter Pat Curtis is nearing completion on a condo makeover in Glover Park DC. Interior Designer Ellen Gilday Witts came up with a plan for the entire unit that gives it a classic look. This includes enhancements such as trim sets around all the windows and crown molding in the kitchen and living room. Ellen is also replacing all of the commercial grade steel framed hollow core doors with new solid wood doors and casings, and brass hardware. It goes without saying, she put a lot of thought into the kitchen and dining area.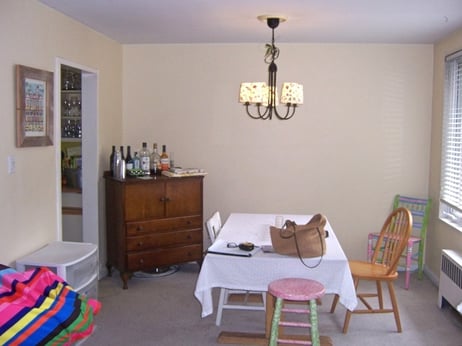 The partition wall that separated the kitchen and dining areas has been deleted. Now the two rooms merge in a visually pleasing way. The detailing continues in the adjacent living room with crown moldings and trim around all the windows.
Fill In the Blanks
Kitchen and bath remodeling can go a long way toward making your condo special. These are always top of the list for our clients here in Washington DC. Our client could have stopped there. It is to her credit that she had the ambition to go all the way with it. It takes some extra effort (but worth it) to add in architectural details that were absent in the original. You end up with a living space that is full of personality and all yours.