Home renovations can drive you insane. There's no denying it. It's often a painfully chaotic process.
What? You say you're not comfortable with chaos?
You're in luck. The remedy for home renovation insanity is right here—and it's a simple concept.
Design build is as simple as the number one
Count to one. Simple, right? Now, have a look at the definition of design-build according to the Design-Build Institute of America (DBIA).
Design-build is where ONE entity, the design-builder, enters into a single contract with the owner to provide both design and construction services.
According to the DBIA, all other project delivery systems rely on separate contracts for design and construction. The benefits of a design build approach to home renovation are:
The entire project is delivered through a single contract between the owner and design-build team
The relationship between designers and builders fosters creative collaboration and teamwork
The efficiency of teamwork accelerates completion of the project
Costs can be managed more effectively
The process results in higher quality end result
Lower incidence of change order disputes
With over 36 years of experience, Gilday Renovations has perfected the design build process. We not only want you to adore your home, we want you to keep all your marbles in place during the remodeling process.
You could drive yourself crazy before you start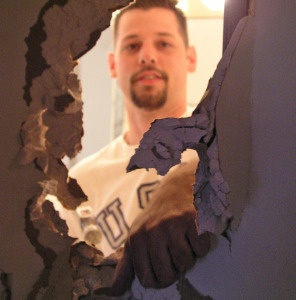 One of the most difficult points in any home renovation story is at the beginning—when you are trying to choose a contractor.
Showing design plans to different builders or remodeling contractors and comparing differing project estimates from each is confusing. You can really drive yourself crazy trying to find the right builder at the right price--because you don't have any idea what it should cost in the first place. It's lot like what happens when you have car trouble.
Let's say your car stops working. You go to a mechanic. He identifies the problem, then gives you a price to fix it.
That seems awfully expensive, you think.
So you go to a different mechanic. He identifies a different problem. He tells you it'll cost even more to fix it!
It's a frustrating, time-consuming process that leaves you feeling out of control.
Unfortunately, a lot of renovation projects follow the same formula. You ask contractors for quotes, and the estimates you get back are all over the place.
Unless you hire a design build firm.
Ah. Everything just got so much easier. No more worries about whether you're getting apples-to-oranges comparisons. Design build firms offer all the remodeling services you need under one contract.
Even when remodeling projects turn out beautifully, the experience is sometimes so stressful and chaotic that homeowners swear they'll never do it again. The design build process ensures that the entire experience is positive, from coordinating when your water is turned off to respecting your neighbors' tolerance for noise.
You can break down design build into 3 Cs
There's an easy way to remember the advantages of the design build approach. Just consider the 3 Cs:
Control
Collaboration
Creativity
Control: Design build puts you in in the driver's seat
At no point during remodeling should you think "This is out of control." Yet that can easily happen when you contract separate architects, interior designers and builders to work on your home renovation.
That's why the "Control" is the first C of design build. Instead of hiring architects, contractors and designers separately, why not hire one design build team to do it all?
Think about it. The team works together to build a reasonable budget, so you know exactly what you're getting and how much it costs.
That's especially important when you're knocking out walls and building additions. In fact, the bigger the project, the more important it is for you to be in control.
Home renovation involves a lot of project management, so if your project will take more than eight weeks, save yourself some trouble.
Take the design build approach.
Collaboration: Everyone is on the same team—your team
"That's not my job" is a phrase we've all heard someone say at one time or another. Usually it's when you ask someone for help, and they can't be bothered.
There's a real risk this can happen if you hire separate architects, designers and contractors for your remodeling project. You might see a problem and call the contractor. If he and the architect don't like each other, both of them might say "That's not my job."
Design build is different, because everyone is on the same team. If you have a problem, the whole team works together to solve it. It's everyone's job to make you happy.
It's called 'collaboration,' and it's the second C of design build. It works because the architect, interior designer and builder are employed by the same firm.
Let's say you wake in the middle of the night with a brilliant idea. It's a vision for how you want your new kitchen or bathroom to look. But it's different from what you talked about with your architect and contractor.
If you hired them separately, then you have to call each one and explain what you want. If either of them misunderstands, you risk confusion and chaos.
In the same scenario, but with a design build firm, you make one phone call. Your ideas are communicated to the whole team at once. Any potential confusion is cleared up immediately.
Now let's say construction has begun. The carpenter has an idea to improve the project. It might save time and money.
Or worse. It's a major problem that needs to be fixed. Either way, it means he has to call the architect.
If he works for himself, chances are that he might not. He was paid to do a job, and he can move on when it's done. Coordinating with architects is too much hassle.
But if he and the architect are on the same team, of course he'll call. They collaborate all the time. They both want you to be happy.
The bottom line is this: Problems increase when architect and contractors haven't worked together. Quality control becomes an issue.
The number of unannounced changes during construction starts to rise. It starts to cost you more money. And you're left in the lurch because of mistakes that could have been avoided.
Creativity: More design ideas make better design
You hear them on the radio all the time. They're called "one-hit wonders," because a band had one great idea for a song. Then they never repeat their initial success.
Creativity has a dark side that no one wants to talk about. It's that no single person has all the best ideas. It's as true in design as it is in music.
When you hire a single designer, how do you know you're getting his or her best ideas?
What if they have a great idea, but it costs more than you want to spend? Can they come up with a comparable idea that's affordable?
An established design build firm employs or works with many designers. That way, no single designer is responsible for having all the best ideas. 'Creativity' is the third C of design build.
By working together in a collaborative and creative environment, the whole team can share ideas and find the best way to meet your needs.
Open communication is key to creative renovations that are still affordable. When architects, designers and builders are employed separately, they may not talk to each other. If one has a good idea, they may not share it with the others.
When that happens, the cost of a renovation may be higher than if the team is working together to find the right balance between creativity and cost.
By communicating with each other during the design process, a design build team offers creative possibilities while helping you budget wisely for your home renovation.
Look for the three Cs
The collaborative nature of a design build approach sparks creative possibilities that deliver the best possible design, while leaving control of your home renovation budget in your hands.
Remember these three Cs, and you're renovation will be a success.