Do you or don't you need tow work with a kitchen designer for your kitchen remodeling project? It is possible that you may regret it if you don't use a designer. The kitchen designer puts it all together for you: lights, color, functionality and visual pizazz.
This week we had a coffee-talk with our favorite kitchen & bath designers. We grilled them about the value of their services for a homeowner planning to remodel a kitchen in Alexandria, Virginia or any of the other nearby Washington communities. This is what they had to say.
Ellen Witts, Leslie Roosevelt, and Sarah Turner of Gilday Renovations offered their views on kitchen design and renovation, shedding some light on the key question: what exactly do kitchen designers do for their clients?
What does a kitchen designer do?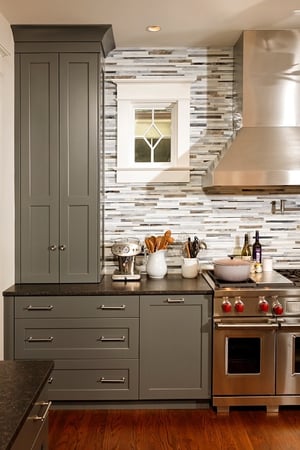 Sarah Turner: We live vicariously through our clients! I just needed to put that out there.
Of course you do. We all do. And?
Sarah: As a kitchen designer, I am in charge with developing a plan---the right plan---for the client. I look at the big picture in terms of how the family lives in the house, how the kitchen is going to relate to the rest of the house, and how the family will use it.
Leslie Roosevelt: Yes, and, it's important to listen to the client's vision and then give them alternatives. Our experience and product knowledge allow us to take a client's vision and mold it into something they may not have imagined. A kitchen renovation is a big investment, and giving clients alternatives helps them make the right choices, not to mention take some of the stress out. We know what works and what doesn't, and we can put all the pieces together so the kitchen is functional and beautiful.
Ellen Witts: Especially with a kitchen, there are a lot of details that need attention. That leaves a lot of opportunity for mistakes if you don't work with a designer.
Like what?
Ellen: There are so many areas that need attention: Clearances of drawers and doors. You don't want them hitting each other or obstructing free movement in the task areas; spacers between cabinets and where cabinets abut perimeter walls; accurate measurements for appliances; and plumbing and electrical issues need to be addressed. Oh, and the depth of a sink cabinet is also critically important for proper sink and faucets installations.
What other things does a designer do for the client?
Sarah: After they react to the initial floor plan and layout, I help them personalize it and make changes that are viable and will work---not just look good. And, I agree with Ellen. A designer makes sure that appliances fit into the cabinet dimensions and that the fixtures blend with the design scheme.
Ellen: With so many countertop options, we try to match materials to meet the client's lifestyle and tastes. Even though Carrera marble is beautiful, a young family with children may not be able to live with the stains that occur natural stone. We also help clients choose tile, flooring, light fixtures, and paint colors to pull everything together into a coherent whole.
Leslie: There is nothing generic or by the numbers with what we do. It is a hands-on, personalized working relationship between designer and homeowner. A kitchen designer can objectively look at the space, the budget, and the homeowner's lifestyle to help them make exactly the kitchen they want in such way that it really works for them 100%.