Susan Liss wasn't thinking about future resale when she hired Gilday Renovations to design and build a two-story addition to her home in Chevy Chase after husband passed away. She just wanted to create a new environment for herself and provide ample room for her children and grandchildren to visit and stay.
"The bottom line was an absolutely beautiful house—and beautiful, tasteful architecture that was completely in keeping with the style of the original house," Liss says. For six years, it served her and her family just as she had envisioned, with plenty of entertaining space and extra bedrooms, plus a new master suite that became her own private retreat.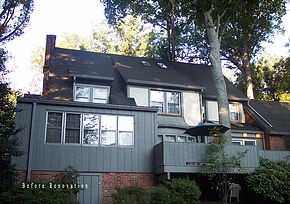 But when she was finally ready to downsize, that renovation was key to the sale. The house sold in one day, over the asking price, with two competing contracts—no open house needed.
"I am certain that if I had not done all of that work, I would not have sold the house as quickly as I did or as easily as I did," she says.
Liss's story is a good example of how homeowners should approach a major home renovation. According to real estate and mortgage experts, consider quality of life first, and the returns will follow.
"When I advise clients, I always tell them that it should be a lifestyle choice," says Theo Adamstein, an architect by training who's now a broker with TTR Sothebys in Washington. He's also an independent consultant for homeowners who are pursuing renovations, offering them advice on how to choose the right architects, designers and contractors.
"Take an ordinary house and make it special," he adds. "I do feel if it's well done, that a large part of that renovation expense will be recouped—if not the full amount, it will be a substantial one."
Remodeling magazine publishes an annual Cost vs. Value guide, which approximates average renovation costs for specific room renovations or general home upgrades; it also ranks which jobs earn the best payback at resale.
The guide helpfully provides ranges for both "mid-range" and "upscale" renovations. In recent years the guide indicated that large-scale renovations (major kitchen remodels, new master suites, home additions) in the Washington DC area can recoup between 50 and 60 percent of the cost at resale with the mid-range priced projects generally returning 5% more than the upscale projects.
But experts caution that such reports shouldn't guide your plans. 99 percent of the time, people are doing renovations because they want to. They're expanding their lifestyle to a level they can afford, and they don't want to move. They're entrenched with the neighborhood and the schools, and they want to stay.
The numbers you really want to consider are what your new mortgage will be after a renovation, and how that number compares with recent sales of similarly sized homes in the neighborhood.
Say you've owned your home for five to seven years, and you've got a $400,000 mortgage. A $350,000 renovation will bring that mortgage to $750,000, and you'll still have the original equity you built over those first several years.
New homes the size of what you're aiming for in the renovation, meanwhile, might be selling in the neighborhood for $1.1 million. The decision whether to renovate or buy new, then, is a no brainer.
But at the end of the day, getting money out is secondary, or even tertiary consideration. People aren't doing a $100,000 kitchen because they think they'll get $110,000 out. They want a nice kitchen where they can cook and entertain—that's where they want to see the jaw drop.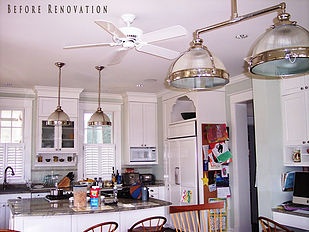 Homeowners who are renovating for the sole purpose of resale, on the other hand, are a different story. That's when you want to start thinking about improvements that get the biggest bang for the buck. "There are properties that lend themselves to cosmetic improvements," Adamstein says. One of his clients recently listed a mid-century-modern home in Northwest Washington that had "unattractive brick" on the exterior, plus a prominent garage in front with a dated, ugly door. He had the house painted white and replaced the garage door with a new, $3,000 door that was much more attractive. "It changed the whole look of the house," he says, and the house easily sold for $2 million.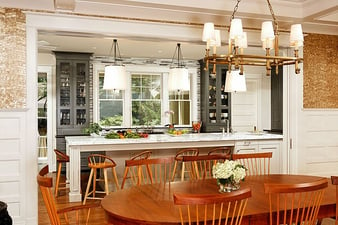 Adamstein recommends other quick, easy upgrades that will pump up your home's appeal. Sometimes it's as simple as a coat of paint everywhere and potted plants flanking the front door. If the kitchen cabinets are dated, replace or paint the doors and leave the boxes, which can be extremely costly to switch. Replace the faucets on the kitchen and bathroom sinks, or add a jaunty backsplash. "Anything like that can really make a difference," he says.
Adamstein believes, however, that the best time to renovate is when you plan to stay for a while, because that investment will not only come out in resale, even if it's years down the road, but will also improve the way you live in your home right now.
If you're not going to be selling the home, it doesn't really matter what you're going to be spending on that kitchen. If you get the value now (through improved lifestyle), you're going to continue to carry that equity forward.
Liss certainly did—and she's doing it again. After selling her Chevy Chase home, she downsized to a small condo in Washington; even though she can no longer have all the kids, grandkids and extended family stay the night, she's asked Gilday to renovate the kitchen and open up the floor plan so she can keep on entertaining.
"When the condo is finished, there will be plenty of room for big dinners and big events," she says. "I'm going to try to make it my space—and it's going to be great."
If you are interested in renovations for your home & are curious about the potential return on investment, contact Gilday today!
And while you are waiting for your consultation meeting date to arrive, prepare yourself by reading our eBook "How Gilday Renovations Integrated Team Delivers the Home of Your Dreams."