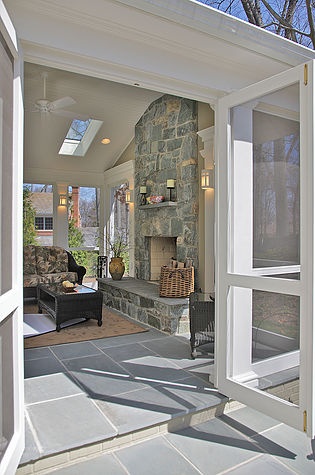 Porches provide transition space from indoors to outdoors. Protected from sun, rain and insects but open to fresh air, a porch is an outdoor room where you can escape your electronic devices if you wish. It can be a special place to enjoy a book or quiet conversation with a background sound of bird calls or wind or rain sifting through the leaves.
Trending steadily in recent years, homeowners are opting to extend the interior of the home to create luxurious outdoor living spaces. The climate in Washington DC & Northern Virginia makes it easy to comfortably enjoy outdoor living and dining throughout three seasons. So investing in a luxury porch addition makes sense. The family will use it every day. And on holiday or special occasions, the porch will invite party activity to flow from inside to outside easily.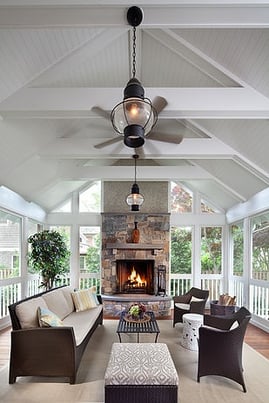 Including a stone fireplace in the design means you will experience that space in a completely different way once the weather turns cold: Is there anyone who wouldn't enjoy cozying up to a crackling fire on brisk autumn afternoon?
Click here to see our porch design gallery....
Learn more about the transformative possibilities offered by home renovation in our eBook "The Essential Elements of Renovating and Older Home."