Love It Or Level It?
Sometimes the answer is obvious. Other times, you struggle. You love a house. You say it deserves to stand, though it looks one gust away from falling down.
We regularly provide advice to real estate agents and their clients. In the home selection process, they want two things: the right house and the right location. They usually only get one of those.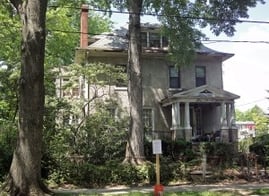 If it's the house that isn't right and it's in a coveted neighborhood like Cleveland Park, we fix it with a top to bottom home remodeling. Because we specialize in renovation, we can move efficiently from design to construction and get new owners into the home without delay.
Whole Lotta Love
Most of the time we are working with a house that is in decent condition. What we are talking about in the remainder of this post is entirely different. This is a house that needs more than a little love and attention. This house needs a lot of EVERYTHING.
It's a
Fixer Upper
Charmer
Usually the house in distress is a charming relic. It's 100 years old--or looks it. But it's still got the mojo. Take a look at this bruised beauty.
Everybody loved this house. Unoccupied and condemned, 47 Jefferson Avenue in Takoma Park was a death trap. It sold off the market to a developer with big plans of subdividing the double lot and flipping it. When that plan fizzled, it sold to a "good" developer with committed buyers in tow.
Art McMurdie and architect Paul Treseder smartly restored Jefferson Ave in 2007. McMurdie has been an off the radar developer in Takoma Park for years. His stated mission: to save old houses.
See how the 1st floor windows and door are off center and don't line up with the 2nd floor? You won't see that in a new build. The sweet exterior doesn't hint at the creative interior layout. It's fun and funky and pure Takoma in there. The house has changed hands three times and never been on the market for more than a few weeks.
Is It Worth It?
We have from time to time accompanied love struck buyers on a tour of such houses. We are, as always, full of optimism about the possibilities.
YES! This attic could be an amazing studio.
YES! A modest addition would give you a family sized kitchen, a mud room and real closets.
YES! We can plug the leaks, fill the cracks, and shore up the sags.
YES! We can make this old house new again! YES WE CAN.
We get excited about the possibilities, too.
Yet, even with a low buy-in price, the potential costs of basic renovation are shattering to my new best friends. We shake hands. They promise to call. They don't.
We forgive them. It's a lot to ask any reasonable person to do.
Handle With Care
Architect Mark McInturff says "there are great houses that should not be torn down." McInturff has helped many clients find a lot to build on. In Washington "lot" = property with a house on it. "We look for the worst house on the best street." Sometimes that house is a gem worth saving. Other times it is too far gone. Mark takes a measured approach to the project. He usually shows his client a renovation program and a new build (tear down) plan so they can evaluate the benefits of each. McInturff's work has been well received in Somerset. One of his originals, a discreet light-filled contemporary, was recently listed for sale by Hans Wydler.
Joe Rubin (Long & Foster) is a realtor/developer who buys, fixes and sells properties on spec. Rubin will look at houses that other developers pass on. With 35 years selling real estate in DC, he knows the housing stock and he knows what sells. Rubin recently brokered an ambitious and successful renovation project on Ridge Road in Chevy Chase. You can read about that here if you like.
Rubin loves the old places and is highly motivated to renovate. Even so, he will take a house down if the margins on renovation aren't going to work out. "With renovation on spec there is a lot of pressure on you to come up with something that is attractive and sellable. The reason guys don't do it is they don't know how. They don't know how to work with the old stuff, to reuse and rebuild. They just knock it down."
Renovation (on spec) is risky. The tear down is safe by comparison.
Save This House, Please!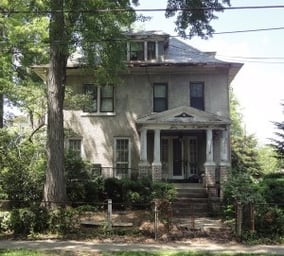 This leads us back to the gracious old four square on Morrison Street NW. The new owner, a developer, will tear it down. A different developer or an ambitious home buyer might take a preservation oriented path--or not. What if the house needs too much and cannot be spared? In that case, you hope the developer isn't determined to shove the biggest, baddest heap o' square footage allowable to max out profit on a desirable location.
Thanks to Sheryl Barnes (TTR Sotheby's) for speaking out and inspiring discussion on this topic.
If you'd like to learn more about the possibilities for giving older homes a second chance of life, download our eBook Essential Elements of Renovating an Older Home.