In an earlier post (The New Family Room Addition Is a Porch) we talked about how the luxury porch is gaining popularity in the category of home additions. The example here is a large wrap around deck that is being converted into a luxury porch.
By the way, those "twin peaks" you see in the photo above? That is a two-story addition we completed about seven years ago along with the deck and entry porch. There is a kitchen & family room addition down, and a master suite above that features a dressing room and work out room.
Too Much Work
So said the homeowners. When we asked what made them decide to go from deck to porch, the answer was: they just quit using it. It seemed like the deck was always wet or messy. That's it. That's all it took. People really want to be outside when they are home. But if you have to wear galoshes or strap on a leaf blower every time you step outside..... forget it!
Indoor Aesthetic Outdoors
So the porch is an inspiring space to listen to song birds or the murmur of wind. It is also a refreshing family gathering place or a place for the party to overflow into. The overhanging eaves will eliminate the wet deck problem on rainy days. The cedar deck has been replaced by ipe boards. Ipe is a dense, exotic hardwood that holds up extremely well outdoors.
Light, Space, Air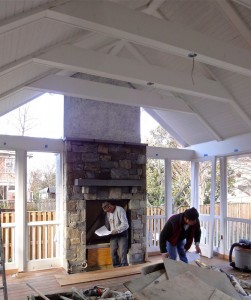 We are about two weeks from completion on this Chevy Chase DC porch design project. The wonderful height on the interior of this new porch is anchored by a massive hearth on the west wall.
The vaulted ceilings, exposed beams and collar ties give the room an inspiring sense of open-ness. The wood burning fire place is fitted with a gas starter. Removeable custom glass panels will fit over the screens in the winter. This is precisely what the owners wanted--a porch for all seasons.
There are more styles to view in our porch design portfolio, if you care to have a look.