Design Build Firm or Bath Remodeling Contractor?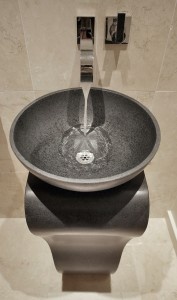 Sometimes it is a luxury you bestow upon yourself. Sometimes a bath remodeling project is an imperative.
When is it time to remodel your bath? People in the Washington DC Metro area give us reasons such as:
We have a postage stamp sized master bath

The door to the first floor powder room opens right next to the kitchen table

The floor is cracked

The tile(grout) is stained

There's no place to put anything
Sometimes the reason is stated more simply: "we can't live like this anymore!"
So, when the time comes, should you look for a design build firm or a bath remodeling contractor? It depends on the condition of your bath. The project may be either a simple "pull and replace" or an extensive redesign and gut remodel.
A Pull & Replace Bath Remodel
If a bath has been updated in the recent past, the sub-floor is sound and there have been no leaks, a partial renovation may be the way to go. We call this a "pull and replace" and that should be sufficient to freshen up the look and fix minor maintenance issues in the bath. You skim the surface: changing fixtures, faucets, hardware and accessories. This approach works well with half baths (powder rooms) because they don't get the same degree of wear and tear as the full baths in the house.
So, if it's just one bath and the project is simple straightforward, you don't need a design build firm. A bath remodeling contractor can do the job.
A Design Build Bath Remodel
When the bathroom is too small or functions poorly, it will require extensive redesign. That could involve moving or removing walls to improve layout and achieve the needed functionality. In that case, a design build firm will bring design finesse and space planning expertise to the project. The designers can help you maximize the space you have. If you need more, they can move walls or design an addition to get the space you need.
As in kitchen remodeling, the bath requires a coordination of efforts because it involves multiple craftsmen. Plumber, electrician, tile setter, carpenter, drywall hanger, painter—all these tradesmen must be scheduled and their performance approved by a dedicated project manager. You won't get the project management component if you choose to hire a small company or solo contractor for a complex bath remodel.
Finally, if a bath is more than 15 years old and has never been updated, it's worth it to completely gut the room and start over. This means everything you can see, touch, or stand on is torn out and replaced. The walls come down and the subfloor comes up. Your new bath will be set on a sound foundation so as to stay strong and water tight for many years to come.