It is standard advice that you should go through stacks of home design magazines, rip out your favorite photos and save them in a binder until you are ready to begin that long over due bathroom design project. Why?
Gathering Bathroom Design Inspiration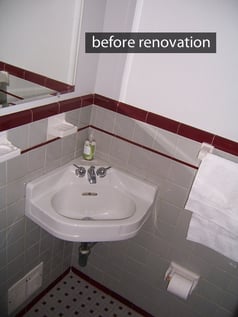 You do this so you can drop that block of luxury bathroom design inspiration into the lap of your interior designer. She'll know how to translate those images into a room that works just right for you. That's what our friend Melissa did.
Why bother? That's what Melissa's husband said. He thought their powder room was too small to "make a statement" no matter how much creativity we applied to it. From what you see in the photo below, however, it's clear that something needed to be done. The original powder room was so small, this is about all we could capture in a photo.
Make My Powder Room Look Like This One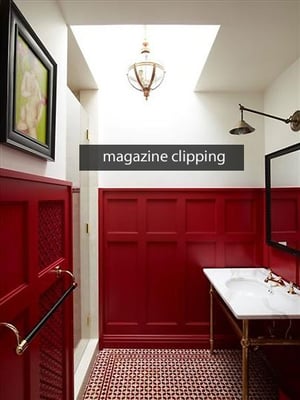 Of the many custom bathroom design pages Melissa saved, this one from Canadian House & Home Magazine was THE inspiration for her bath remodeling project.
Can you do something like this? she asked.
Of course.
From that leaping off point, the bath designer came up with a slightly less intense version of the example given from the home magazine. We kept the same color palette, the tall formal wainscoting and the satin stainless at the wash stand. Due to the petite size of Melissa's bathroom, we decided to delete the pendant lamp. We also thought it best to calm down the pattern in the floor tile. If we followed the example shown in the magazine tear sheet, we thought the visual might be too busy for such a tiny space.
Learn how to choose a home remodeling company for your bathroom remodeling project by reading our eBook Six Things to Ask Yourself Before You Call a Home Remodeler.