Bath remodels usually don't involve a great deal of square footage. Baths tend to be the smallest rooms in the house--even the master bath. So there isn't much margin for error. A bath remodeling project requires a lot of thought and planning for it turn out just right.
Here is a behind the walls look at a master bath re-design we did at a home in the AU Park neighborhood of Washington DC. This one involves reconfiguring interior space to get a larger bath. The designer accomplished this by moving a partition wall 18 inches into the bedroom area and by taking over a large hall closet.
These before (left) and after (right) floor plans will make clear for you what the designer did for the client.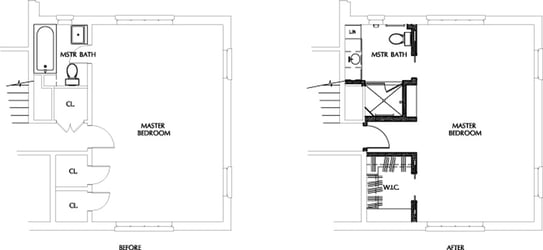 Here's what it looked like before we lifted a sledge hammer.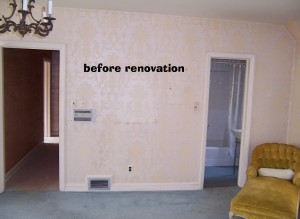 The entire area of the old bath room and closet was demolished and re-framed. A generously proportioned shower stall occupies the spot where the closet was.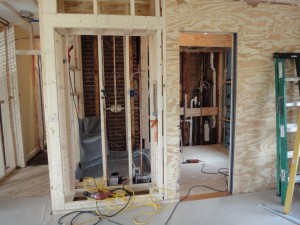 You can get an idea of how much more spacious and comfortable the new master bath is going to be when it is completed in four weeks. Check back then.