Bathroom designs usually don't involve a great deal of square footage. Baths tend to be the smallest rooms in the house--even the master bathroom sometimes. So there is little margin for error. A bathroom design project requires a lot of thought and planning for it turn out just right.
Here is a behind the walls look at a master bathroom re-design in progress at a home in the AU Park neighborhood of Washington DC.
A Successful Bathroom Design Project
This project involves reconfiguring interior space to increase the size and functionality of the bathroom. The designer accomplished this by moving a partition wall 18 inches into the bedroom area and by taking over a large hall closet.
These before (left) and after (right) floor plans will make clear for you what the designer did for the client.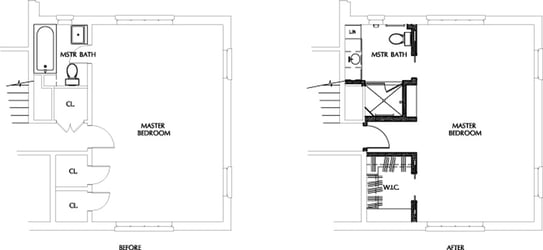 As the diagram on the right shows, the area where the closet was is now occupied by a luxurious shower. The bath tub was eliminated and, in it's place is a large vanity with plenty of countertop on either side of the sink. And a tall narrow linen closet flanks the right side of the vanity against the exterior wall.
The entire area of the old bathroom and closet was demolished and re-framed. A generously proportioned shower stall occupies the spot where the closet was.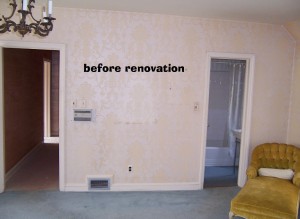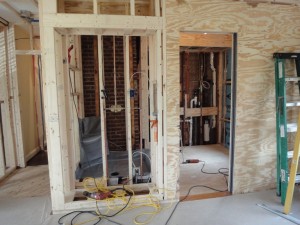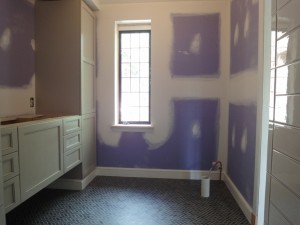 Aside from improving the utility of the space, re-positioning the vanity presents a appealing focal point when viewed from the doorway into the bathroom.
You can also see (next photo below) that the wall on the bedroom side of the shower stall is being framed for a media center.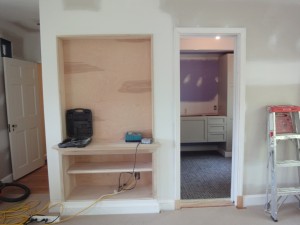 You can get an idea of how much more spacious and comfortable the new master bath is going to be when it is completed in four weeks.
Making the Most of a Limited Space
All of these improvements are made possible by a bathroom design that makes clever use of limited space by:
taking just 18 inches from the bedroom area and using it for the bathroom

repurposing the space occupied by an over-sized hall closet and using it to install a spacious shower

adding a correctly sized linen closet inside the bathroom

relocating the sink, toilet and tub (now a shower) to maximize utility in the new bathroom space
If you'd like to learn more about how a skillfully drawn bathroom design can transform your out dated bath, schedule a consultation with one of our interior designers.