WHAT'S WRONG WITH THIS PICTURE?
Nothing really.....
This kitchen was remodeled about 10 or 15 years ago. It's fine. Stone countertops, adequate storage, high-end appliances all are in good working order. There is a logic to the layout. The room is spacious and sunny. Those French doors throw lots of light into the space.
SO WHY HEAVE IT ALL INTO THE DUMPSTER?
We absolutely did not toss everything into a dumpster. As with all of our projects, we recycled and/or reused more than 60% of the materials. However, the owners wanted the space to function in an entirely different way, one better suited to their family style.
The old kitchen, though it looked fine, did not function optimally as work space. An overly large table seating area (out of frame left) was deleted from the layout. The massive island that takes its place provides seating, storage and preparation space all in one visually impressive package. The new kitchen is set up for people who love to socialize and make meals together.
NOT JUST A KITCHEN REMODEL
This entire room has been significantly reshaped. Because we see more potential in renovation today than we did five or ten years ago. We deliver much more, particularly in he realm of kitchen design. Clients challenge us (and we them) to be daring and innovative in our thinking.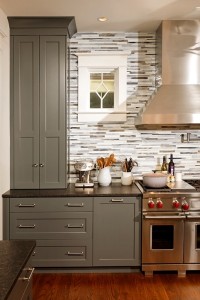 You can view the full pictorial (including before/after floor plan) of this Cleveland Park renovation in our kitchens portfolio. When you get there, click on the 9th thumbnail image in the gallery.
Learn about how to approach a kitchen design and remodeling project by downloading The Definitive Guide to Kitchen Design & Remodeling Success.