The home remodeling programs on HGTV are fun to watch. Magic happens in minutes. Presto! Old and outdated becomes new and modern.

However, the TV shows only give you glimpses of the remodeling process—the sexy parts. They don't show the planning and preparation that goes into a successful home renovations. More importantly, they don't even come close to showing a realistic timeline to complete the project. The viewer get the sensationalized version. We think you deserve the truth.
We thought it would be done by now.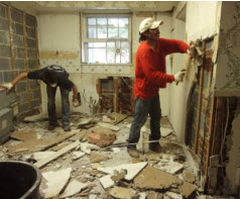 There are three possible reasons for this complaint:
An inexperienced kitchen remodeler gave an inaccurate timeframe.

The homeowner had unrealistic expectations that were not corrected by the remodeler.

The remodeler told you a little lie.
What was that about little lies? Unfortunately, some home renovation companies underestimate the timeframe to appease the client. They want the work, so they tell the client what they want to hear. If you say you want it to be over quickly, that's what they tell you. In fact, the most common concern or question we get from clients and potential clients alike is "when will it be over?" They fear the renovation will go on and on forever.
How long should kitchen remodeling take?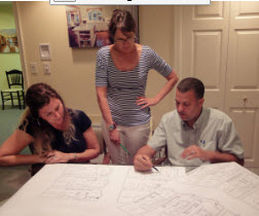 Of course, there's no standard answer. The time needed for remodeling a kitchen depends on the scope of the project, availability of materials, and the requirements of the design.
In a straight-forward kitchen design, where new components replace the old ones in the same layout (known as a pull and replace), there is minimal construction or customization involved. Pull and replace kitchen projects average 6-8 weeks for a moderate sized kitchen.
For larger kitchen remodeling projects, involving wall removals, structural changes, and reconfigurations of the floor plan, 8 – 10 weeks is a fair expectation for completion.
Can your kitchen renovation take even longer?
An efficient remodeling project is built around a schedule. Your project manager lays out a series of steps to be completed in sequence.
Still, even with the most carefully planned renovation projects, delays can occur—not necessarily because of incompetence or carelessness.
There are a lot of specialty subcontractors and a lot of special ordered products involved in a kitchen remodeling project. That makes for tricky scheduling. Everything is tied together in sequence. Little hiccups are bound to happen. Most of the time they are smoothed over by project management. So, the delays that do occur aren't show stoppers.
Great home renovations come to those who plan
Here's a detailed look at a standard kitchen remodeling timeline. There are two parts: pre-construction and construction phase
Kitchen Pre-Construction Phase
1 Design Meetings
floor plans

elevations

furniture plan

lighting & electrical plot
2
Selections
Cabinets

Countertops

Tile

Appliances

Light fixtures

Plumbing fixtures

Flooring

Hardware
3. Construction Drawings
4. Apply for Permits
5. Order materials (delivery dates align with construction schedule)
Kitchen Construction for Pull & Replace Kitchen Only
Week 1
Dust & floor protection

Demolition

Straighten & level framing
Week 2
Sub-contractors rough in

Plumbing

Electric

Duct work

A/V wiring
Week 3
Close-in inspections

Install insulation

Insulation inspection

Stock drywall
Week 4
Hang & finish drywall

Sand and prime drywall
Week 5
Install hardwood flooring

Receive and set cabinets
Week 6
Measure for counter tops

Counter top fabrication
Week 7
Install counter tops and appliances

Subs "trim out" electric and plumbing (hang fixtures, install faucet)
Week 8
Finish hardwood flooring

install knobs
Week 9
Professional Cleaning

Final walk thru & punch list completion
Every step in the remodeling process is 100% necessary.
As a homeowner, you simply need to understand that quality, custom kitchen renovations take time and require thorough planning and preparation.
"Everything we do is custom. It takes longer. In a four-week kitchen job, cabinets are right off the shelf. They come out of a box and go right into your kitchen. If they fit the room dimensions—great. If not, the contractor fills in the gaps with spacers."
— John Lowe, Project Manager, Gilday Renovations
So, we've told you the truth based on our 36+ years of experience in home renovation and kitchen remodeling. We think it fair to set clear expectations with our customers. Renovation is a huge emotional investment. We think the more you know going into it, the better you will appreciate the entire process. Those eight to ten weeks of renovation will be over before you know it. That's the magic of expert remodeling—making it seem quick and easy.